LHS Students Lead Middle School Drug Education Effort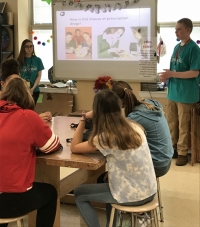 While middle school students often hear the message about the dangers of prescription drug and opioid abuse as they move through the school year, this year the message was delivered in a new way – by students themselves.
The District this school year teamed with the nonprofit Recovery Resources of Cleveland to participate in the Casey's Kids program, which trains high school students to teach middle schoolers about drug addiction. The high schoolers – all sophomores – were chosen by their Health class teachers to participate in the program. They met for training beginning in January during study halls.
In April and May the student leaders presented the program to the Garfield and Harding eighth graders. The program begins by having the students take an interactive quiz to evaluate how much they already know about prescription drug usage and abuse. The leaders then share information on how drugs affect the brain and lead to addiction; what are unsafe practices with prescription drugs – not sharing prescriptions, disposing of unused medications – and best practices; risk factors for addiction; and types of commonly abused drugs. They also give the students strategies on how to say "no" to the offer of drugs.
Lakewood is one of only three districts in the area currently participating in the three-year-old Casey's Kids program, named for late Cleveland sportscaster Casey Coleman, a great friend of Recovery Resources and someone who openly shared his story of addiction and recovery.
The Casey's Kids leaders from Lakewood High expressed gratitude for having the chance to try and make a difference for the younger students and believe they have a unique voice to do so.
"I think being peers that are teaching them helps because they can relate to us," said Autumn Cruz. "I love it."
Read More on Schools
Volume 14, Issue 11, Posted 10:43 PM, 06.05.2018