LHS Junior Earns Spot In Marine Corps Music Program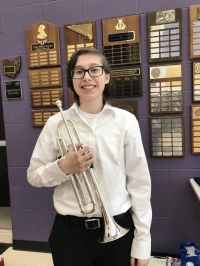 Lakewood High School junior Kira Marjanovic has accomplished a feat few women and even fewer juniors accomplish – earning entry into the U.S. Marine Corps Music Enlistment Option Program for eventual placement in a U.S. Marine Corps Band.
According to the local Marine Corps recruiter Amirah Dixon, Kira is the first accepted student from Lakewood High School to a program that only accepts about a quarter of applicants who audition. Sgt. Dixon said the judges said "it was unusual to have the skills she does (at her age)," particularly her sight reading skills. "She is very, very talented," Sgt. Dixon said.
The Music Enlistment Option Program is offered as a four-year enlistment that includes formal musical training at the School of Music in Virginia Beach, Va., and assignment to one of 10 field bands around the United States and Okinawa, Japan. Prior to attending the music school, the MEOP enlistees complete the same boot camp training as all other Marine recruits at either Parris Island or San Diego.
The music school training is 30 weeks and includes weekly private instrumental instruction and ear training, as well as music theory.
At Lakewood High, Kira is active in Wind Ensemble, Jazz Band and the Lakewood Ranger Marching Band. Julie Tabaj directed Kira during her middle school years and Clinton Steinbrunner is her current director at LHS.
Kira said she is looking forward to her future as a Marine musician and sees it as a great opportunity to travel and "hopefully inspire others." Best of luck to you, Kira!
Read More on Schools
Volume 14, Issue 11, Posted 10:43 PM, 06.05.2018