Lakewood Public Works Has Long Relationship With ASCME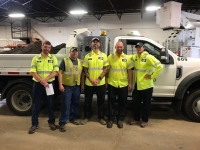 AFSCME which stands for American Federation of State, County and Municipal Employees have represented the City of Lakewood public employees for 39 years. AFSCME local 1043 has recently elected a new executive board to lead us into the future. The Local includes all public works departments (Fleet, Parks, Refuse & Recycling, Streets, Water, Sewer, Waste Water) as well as the administrators (Aging, Building, Tax, Finance, Youth and Engineering) of Lakewood. Certainly, all Lakewood residents have been affected by one or more of these hard-working people.
As a 19-year employee of the Refuse department, I am very optimistic about our new AFSCME executive board. Under the leadership of newly elected president Mike Satink, the union hopes to become more engaged with its rank and file as well with the Lakewood community. Mike comes from a labor union family where his father was a Teamster for 45 years and vice president for 6. Mike himself was a beer truck driver and Teamster for 15 years, as well as a steward in Lakewood's Refuse and Street departments. Mike is a firm believer in following the union contract whether in general policy or labor disputes and hopes to bring a consistency to the relationship between management and the union.
Nick Hudson is the new chief steward. Nick has been with the city for 14 years and has spent time in Refuse, as well as in Parks where he presently works. Nick has immersed himself in the very complicated world of health care, trying to understand and aid in securing the best and most economical health plans for our members.
The rest of the executive board is rounded out by vice president Zach Grey who started out his Lakewood career at Winterhurst Skating Rink and is now an integral part of the Water Department. Jamie Funderwhite is the recording secretary, has been a city mechanic and just recently transferred to the Streets Department. Our union treasurer is Bob Collins whose financial know-how is backed by an accounting degree from Cleveland State University. Bob has also been a part of the Wastewater and presently works in Refuse.
The entire new executive board and the union rank and file look forward to serving the Lakewood residents in the efficient and gracious manner that the residents have come to expect and deserve. Lakewood continues to have one of the best, if not the best public services of any north coast community.
We would also like to thank the Lakewood Observer for giving our union this forum to communicate with the fine residents of Lakewood who allow us to serve them. We will be running a regular column, "Word on the street from the Lakewood Employees" monthly to fill you in on what we do to make Lakewood a great place live.
Read More on
Volume 14, Issue 11, Posted 10:43 PM, 06.05.2018