Adam Miller: Folk Singer, Autoharpist And Storyteller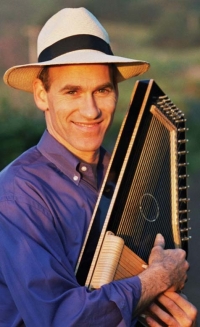 Adam Miller returns to the Main Library's concert stage on Sunday, June 17, 2018. An accomplished autoharpist, Miller is renowned as a folk singer and as a storyteller who appeals to all age groups. He accompanies his resonant baritone voice with lively finger-picking and beautiful melodies.
Miller first began collecting folk songs while he was still in grade school. Since he is blessed both with an audio-graphic memory and with an astounding musical ear, Miller now has a repertoire of more than five thousand songs. He travels over 70,000 miles and performs two hundred concerts each year.
Miller is particularly interested in how folk songs travel through history and how history travels through folk songs, which he illustrates by interweaving folk songs with the stories behind them. Miller reminds us that historical events were accomplished by ordinary people.
Adam Miller's concert takes place in the Main Library Auditorium on Sunday, June 17, 2018 at 2:00 p.m. Admission is free, and all ages are welcome.
Read More on Library
Volume 14, Issue 11, Posted 10:43 PM, 06.05.2018