You Are Entering The Twilight Zone: Life Lessons From A Timeless Show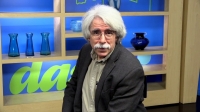 You may have watched an episode of "The Twilight Zone" and laughed, shaken your head, cringed, cowered (in my case,) or been amazed at its ingenuity. But did you ever think of "The Twilight Zone" as a body of work from which you could draw countless life lessons? Author and critic Mark Dawidziak was inspired to do just that, resulting in his book, "Everything I Need to Know I Learned in the Twilight Zone: A Fifth-Dimension Guide to Life."
Dawidziak draws the reader in immediately with a welcoming and familiar tone. After an introduction that includes a biography of the show's creator Rod Serling, we are given a series of fifty life lessons, each using one or more "Twilight Zone" episodes to illustrate a point. For example, the importance of standing together as friends and neighbors, rather than letting ourselves be divided by chaos or change, is shown in the episode "The Monsters Are Due on Maple Street." In "The Big Tall Wish," we are reminded of the importance of believing in ourselves and our own hard work, and perhaps a bit of magic. Lessons like these continue throughout, and Publishers Weekly describes this as a "tongue-in-cheek self-help book" and a loving tribute to the original show.
Mark Dawidziak has been a theater, film, and television critic since 1979, and has been on staff at The Plain Dealer since 1999. He is also a prolific author, having published fiction and non-fiction books on topics ranging from horror to Mark Twain to television history. Dawidziak is coming to discuss his newest book at the Lakewood Public Library's Main Library Auditorium on Thursday, May 31, 2018 at 7:00 p.m. Come join us and learn something new, but take care, or you might find yourself inside the Twilight Zone...
Read More on Library
Volume 14, Issue 10, Posted 3:06 PM, 05.15.2018