PTA Year-End Awards Include Educator Of Year For Csongei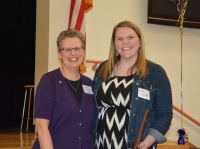 The Lakewood Council of PTAs handed out its annual awards at a ceremony on May 2 at Harding Middle School. The ceremony included awarding four senior scholarships, honoring teachers of the year at each building, and recognizing the District's Educator of the Year, Sarah Csongei, who also was named Ohio PTA's District 11 Educator of the Year.
Csongei works as an Intervention Specialist in the MILES special education classroom at Lakewood High. The other PTA Educator of the Year honorees for their respective school buildings were also recognized: Sonja Kreps, Harding Middle School; Colleen Moran, Garfield Middle School; Molly Dyke, Lincoln Elementary School; Julie Said, Roosevelt Elementary School and Sean McGuan, Grant Elementary School.
"I am so honored to be recognized for the work that I do with such a unique population of students," said Csongei. "I would not be able to do my job without the amazing support of my fellow MILES teachers, Rachel Bonsky, Jess David, and Cory Streets, or the tireless help of all of the paraprofessionals in the MILES unit."
Csongei's nomination form state that she "creates a positive and engaging learning environment for all her students….is a strong advocate for her students -and an inspiration within LHS and LHS PTA."
The PTA Council also honored the overall success of four seniors. Earning $1,000 scholarships each this year were Joseph Burtzlaff, Calvin Dolatowski, Veronica Lee and Eva Wynn.
The Helping Hand award goes to a staff member in the school buildings other than a teacher who goes above and beyond in helping students and staff. Lincoln PTA member and volunteer extraordinaire Patricia Barley was awarded this year's District Helping Hand Award. Barley also earned the award for the Ohio PTA for District 11.
The Golden Apple award is reserved for special recognitions of service. It is given to individuals for their outstanding efforts to improve or make a difference on the behalf Lakewood City Schools students and who have been instrumental in supporting and aiding in the success of PTA. This year, LHS head custodian Randy Hatmaker was awarded the Golden Apple.
Council also honored a number of programs around the District for their impact on students and families as well as the community at large. The following awards were given:
Family Engagement Award: The Lincoln Family Book Club, founded by teacher Laura Strauss
Outstanding PTA Program Award: LHS PTA's LHS 101 program
Community Engagement Award: LHS History Club
The final award is the PTA Council President's Award, which was presented to the Harrison PTA for its perseverance and dedication to sustaining a meaningful and impactful PTA despite membership and budget challenges.
Council also said farewell to Superintendent Jeff Patterson, who is retiring in July, and Assistant Superintendent Roxann Ramsey-Caserio, who will become the Superintendent of North Ridgeville Schools August 1.
Congratulations to all the honorees! and to the newly installed Council officers for 2018-2019, led by president Joanne Schwark.
Read More on Schools
Volume 14, Issue 10, Posted 3:06 PM, 05.15.2018