Lakewood's Bethany Toth Earns Degree After 'Clicking' With The Tri-C Public Safety Program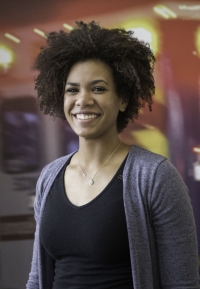 Bethany Toth randomly clicked on a link and opened the website for the Public Safety Center of Excellence at Cuyahoga Community College (Tri-C®).
Someone may eventually owe his or her life to that simple decision.
That online exploration two years ago reawakened Toth's childhood dream of working in law enforcement. The 20-year-old from Lakewood will graduate from Tri-C on May 17 with an Associate of Applied Science in Criminal Justice.
The degree marks the start of her planned career climb to become a police crisis negotiator, the person called in to defuse potentially deadly situations.
"Tri-C is my steppingstone," Toth said. "This is how I'm going to become that officer."
Toth enrolled at the College after that online search introduced her to the Public Safety Institute. She immersed herself in the criminal justice program and became a fixture at the KeyBank Public Safety Training Center.
Her work in and out of the classroom earned her a KeyBank Public Safety Scholarship from the College and an internship with the Cuyahoga County Prosecutor's Office, where she spent last summer organizing evidence.
"I couldn't have asked for more from my experience at Tri-C," Toth said.
She plans to continue her studies with Tiffin University through a partnership that will allow her to complete a bachelor's degree in criminal justice administration while taking classes at Tri-C's Brunswick University Center.
After that, Toth intends to enroll in Tri-C's Police Academy to become a commissioned officer, putting her in a position to achieve her ultimate goal of becoming a crisis negotiator.
"I know that I'm someone who can bring a sense of relief to people and talk them off a ledge," Toth said. "When someone is in the worst situation, I want to be there for them. That's where I think I can make the biggest difference."
John Horton
Manager of Media Relations at Cuyahoga Community College
Read More on Schools
Volume 14, Issue 10, Posted 3:06 PM, 05.15.2018