Baby Thief Author Will Sign Books At Library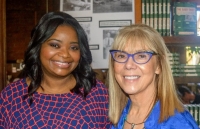 It sounds like a nightmare: renowned social worker accused of kidnapping and selling babies. But this is no horror story; it's the true account of Georgia Tann, written by Lakewood author Barbara Bisantz Raymond.
For years, Georgia Tann was lauded as a Tennessee social worker who arranged adoptions from her children's home in Memphis, Tennessee. She was praised for matching poor orphans with loving adoptive families. In reality, Tann was far from kind-hearted. She terrorized young unwed mothers into relinquishing their babies and even stole babies from some families. Tann would then sell the babies to wealthy clients including Joan Crawford and Dick Powell. Tann altered the babies' birth certificates, ostensibly to protect the adoptive families, but actually to make her crimes nearly impossible to trace.
An adoptive mother and investigative journalist, Barbara Bisantz Raymond recounts Tann's horrifying tale in her book, "The Baby Thief: The Untold Story of Georgia Tann, the Baby Seller Who Corrupted Adoption." Raymond initially wrote about Tann in a magazine article which led to a 60 Minutes exposé on Tann. The film rights for "The Baby Thief" have been optioned by Academy-Award winning actress Octavia Spencer, who won the Best Supporting Actress Oscar in 2012 for her portrayal of Minny Jackson in "The Help."
Raymond will discuss her book on Thursday, May 24, 2018, at 7:00 p.m. in the Main Library Auditorium. Books will be available for sale and signing at the event.
Read More on Library
Volume 14, Issue 10, Posted 3:06 PM, 05.15.2018