An Open Letter Of Gratitude From Nickie Antonio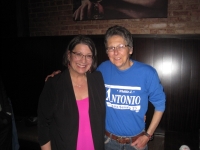 Dear Neighbors,
I am writing to thank all of our incredible voters who showed up on May 8th and cast a vote for me in the State Senate Democratic Primary. After months of grueling work, we had to wait until the late hours of election night to view the final results as they slowly trickled in and finally declared our campaign victorious. In what has been dubbed a "nail biter" by many, in the end I received almost 55% of the vote to win the election as the Democratic party nominee. This victory is the result of the hard work and dedication of countless volunteers, supporters and a few part-time amazing staff. We truly could not have done this without the outpouring of support from people throughout SD 23, but especially in Lakewood, Cleveland, Parma, and Parma Hts. Lakewood voters produced an especially strong showing with over 5,000 of the last votes posted.
This win would not be possible without my family; Jean, Ariel and Stacey and the members of the greatest campaign team ever!!! The "All In for Antonio" Campaign Team includes: Nicole (Coco) Parke- Campaign Manager, Colleen Clark-Sutton-Campaign Coordinator, Sarah Kepple-Digital Communication Guru, with help from Matt, Eric, Erik, Donna, Diane, Dave, Molly, Maureen, Rebecca, Steve, Tom, Gerry and scores of volunteers too numerous to mention but each and every one important to the campaign.
We ran an energetic, positive campaign of the people, for the people. I am especially proud of our campaign during the time when our opponent went low and negative- we took the high road and continued to focus on the important issues facing our communities. We need quality, fully funded public schools for our children, increased senior services, good paying jobs-necessary to sustain our communities and fairness and equality for all. Together we will keep fighting for these important issues.
The voters of our district stepped up, turned out and made your voices heard. I am so grateful for your vote of confidence and support. Know that I will stand up for all the people of our district to move our communities and Ohio forward. And our office will continue to serve the entire district with superior constituency services. I hope you will all return to the polls in the November general election where I have a Republican opponent.
Sincerely,
Nickie J. Antonio
State Rep. 13
Nickie Antonio
State Representative Nickie J. Antonio (D-Lakewood) is honored to be serving her fourth term in the Ohio House of Representatives. House District 13 includes the city of Lakewood in its entirety and parts of Cleveland's West Side neighborhoods. Representative Antonio is a civic-minded public servant who is concerned with the quality of life of those around her and has been a social justice advocate working for human rights and equality for all people for more than two decades. Antonio is an alumna of the Harvard Kennedy School Senior and Executive Leadership program for State and Local governments. The first in her family to graduate from college, Antonio holds a Master of Public Administration Degree from the Maxine Levin College of Urban Affairs at Cleveland State University as well as a Bachelor of Science Degree in Education from CSU. She is a graduate of Lutheran West High School located in Rocky River, Ohio. Antonio currently serves on the currently serves as Ranking Member of the Health Committee. She also serves on the Finance Committee, Finance Subcommittee on Higher Education, the Joint Medicaid Oversight Committee and the Joint Legislative Ethics Committee. Rep. Antonio is a member of the Ohio House Democratic Women's Caucus—previously serving as chair—and is the state director for the Women Legislators' Lobby. Rep. Antonio was also a member of the Democratic Leadership and served as the Minority Whip. Daughters Ariel and Stacey, both Lakewood High School graduates, have made Rep. Antonio and wife Jean Kosmac very proud as the girls engage in their post-secondary pursuits.
Read More on
Volume 14, Issue 11, Posted 3:09 PM, 05.15.2018