Volunteers Needed For LCAC's Spring Cleaning Supplies Distribution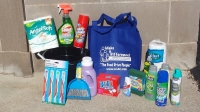 Lakewood Charitable Assistance Corporation is once again in need of lots of helping hands. On Saturday, May 12th beginning at 9:00am, LCAC will sort and deliver bags, jam packed with cleaning supplies, to 250 family households and senior residents in need.
As temperatures start to climb, folks become anxious to wash off winter's dirt and grime. Many households struggle when it comes to spring cleaning because necessary supplies are expensive, and not covered by WIC.
YOU can make a difference for your neighbors in need by joining LCAC's Spring Cleaning distribution. By donating just two hours of your time, you can help 250 Lakewood homes sparkle and shine!
Join LCAC's volunteer board members on Saturday, May 12th to help sort and deliver cleaning supplies to Lakewood residences. All ages are welcome at LCAC events! We are grateful for the many volunteers who come to support our holiday food distributions in November and December. Once the weather turns nice, our volunteer numbers drop significantly. We hope to see many friends return this spring.
Thanks for putting May 12th on your calendar. LCAC's Spring Cleaning Distribution event will begin at 9am in the rear parking lot of the Masonic Temple off Andrews Ave.
Come, rain or shine! Gathering with neighbors to help friends in Lakewood is what community is all about.
Please check our website - www.LCAC.info, or our Facebook page - (Lakewood Charitable Assistance Corporation) for more details.
Read More on Features
Volume 14, Issue 9, Posted 12:39 PM, 05.01.2018