Rep. Antonio's Legislative Agenda Building Momentum At The Statehouse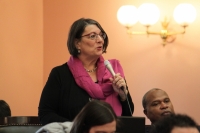 We had a trifecta of success this week as two pieces of my legislation, House Resolution (HR) 193 and House Bill (HB) 464, and a floor amendment on school safety, made inroads through the legislative process.
HR 193, legislation urging Congress to award Annie and John Glenn with a Congressional Gold Medal for their lifetime of public service, unanimously passed the Ohio House Wednesday. John Glenn was a pioneering astronaut, a Marine Corps pilot, a United States Senator and a co-founder of the John Glenn College of Public Affairs at the Ohio State University with his wife, Annie. Annie Glenn, born with a severe speech disorder, completed an intensive speech therapy program in 1973 then dedicated her life to helping others with communications disorders.
John and Annie Glenn's story is one of public service and mutual dedication through service towards the betterment of their community and country. They have been such incredible inspirations to all Ohioans, and I am so pleased that they received this important recognition from the Ohio House of Representatives.
HB 464 unanimously passed the Ohio House Health Committee Wednesday. The bill would allow the Ohio Department of Health to recognize any hospital or center that has been certified as a Comprehensive Stroke Center, Primary Stroke Center or Acute Stroke Ready Hospital and would establish protocols for assessment, treatment and transport to hospitals of stroke patients.
Unfortunately, as the fifth leading cause of death, strokes are a health concern that touch many of our lives. If we are able to detect the signs of stroke sooner and transport patients to the facility best equipped to deal with their needs, we will be able to minimize the long-term effects and even prevent. This bill is very near and dear to my heart as I lost my mother, June, to complications from a stroke in 1999.
I also introduced a House floor amendment (very difficult to advance) that was accepted and added to House Bill 318. The legislation that would define the qualifications and duties of School Resource Officers and lead ultimately to safer schools for our children. The Antonio amendment includes research as to the status of School Resource Officers throughout the state so that the Facilities Construction Commission study of school security upgrades could include the cost of School Resource Officers.
Next steps: HR 193 and HB 318 moves to the Senate for consideration; HB 464 moves to the House for a floor vote. I'm proud of our results this week as we continue to get things done for the people of Ohio.
Nickie Antonio
State Representative Nickie J. Antonio (D-Lakewood) is honored to be serving her fourth term in the Ohio House of Representatives, which began in January of 2011. House District 13 includes the city of Lakewood in its entirety and parts of Cleveland's West Side neighborhoods.
Representative Antonio is a civic-minded public servant who is concerned with the quality of life of those around her. She has been an advocate for workers rights, quality education, suporting local government, equal rights for women and the LGBT community, healthcare for all and fighting the opioid crisis.
Antonio is an alumna of the Harvard Kennedy School Senior and Executive Leadership program for State and Local governments. The first in her family to graduate from college, Antonio holds a Master of Public Administration Degree from the Maxine Levin College of Urban Affairs at Cleveland State University as well as a Bachelor of Science Degree in Education from CSU. She is a graduate of Lutheran West High School located in Rocky River, Ohio.
Antonio currently serves on the currently serves as Ranking Member of the Health Committee. She also serves on the Finance Committee, Finance Subcommittee on Higher Education, the Joint Medicaid Oversight Committee and the Joint Legislative Ethics Committee. Rep. Antonio is a member of the Ohio House Democratic Women's Caucus—previously serving as chair—and is the state director for the Women Legislators' Lobby. Rep. Antonio was also a member of the Democratic Leadership and served as the Minority Whip.
Daughters Ariel and Stacey, both Lakewood High School graduates, have made Rep. Antonio and wife Jean Kosmac very proud as the girls engage in their post-secondary pursuits.
Read More on Features
Volume 14, Issue 9, Posted 12:39 PM, 05.01.2018