Garfield & Harding Mock Trial Teams Excel In State Competition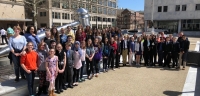 Congratulations to the Garfield and Harding Middle School Mock Trial teams, who on April 20 earned top ratings at the statewide Middle School Mock Trial State Showcase sponsored by the Ohio Center for Law-Related Education held in Columbus. Both Garfield 7th grade teams and the Harding 7th grade team earned the highest Superior rating and Harding's 8th grade team narrowly missed the top rating and earned an Outstanding rating.
Both schools had many of their students earn Best Attorney and Best Witness awards. For Garfield, 7th graders Sophie Boyer and Maddie Oldfield won Best Attorney awards, while Mason Ivinskas and Sarah Scott won Best Witness awards. Earning individual honors for Harding were 7th graders Lydia Kress and Alex Hodson and 8th grader Julia Shields for Best Attorney, as well as 7th graders Luke Sweeney and Rhiannon Riker and 8th graders Amal Elhachdani and Joey Daso for Best Witness.
The competition, which included 38 middle school teams going to trial against each other over a three-day period at the Ohio Supreme Court Building, is based on a work of fiction. This year's book was "The True Confessions of Charlotte Doyle" by Avi. The legal teams prepared for the trial of Rhode Island v. Charlotte Doyle. The case was set in the 1800s and disputed a 13-year-old girl's innocence in the murder of first mate Hollybrass on a ship where a mutiny was planned against the captain.
Each team was divided into Defense and Prosecution squads, with students taking on the roles of attorneys, witnesses, and bailiff/timers. Each squad presented its case in trial against another Ohio middle school, in front of actual attorneys and judges who rated the teams on case understanding, professional demeanor, oratory skills, and an understanding of trial technique and courtroom procedure.
The Harding teams were selected for participation through a playoff in the classroom, where judges and attorneys from the community presided over the mock Mock Trials. Teams were then narrowed down and chosen. In some cases, whole teams moved forward, while other witnesses had to change lawyers or even change to a new witness!
Dan Smith's entire 7th grade ELA class, who together comprised either Garfield Purple or Garfield Gold, worked extremely hard over the last five weeks and all participated in Columbus. Mr. Smith's wife Peggy Ferraro, an attorney, served as legal consultant to Garfield's teams and devoted two days both to work with students in class and to attend the trials in Columbus.
Garfield team members:
7th grade: Cayleigh Austin, Charlotte Beno, Layla Black, Sophia Boyer, Audrey Carson, Ellie Clark, Kay Coleman, Tyler DiLoreto, Casey Funk, Monet Gee, Sydney Hampton, Grace Hart, Jacqueline Hudak, Samantha Hudak, Mason Ivinskas, Jill King, Eli Ladue, Bella Lara, Kylie Lenzer, Abigail Marsh, Maggie McGann, Jane McGinley, Griffin Norris, Maddie Oldfield, Luke Schuldt, Sarah Scott, Evie Woolfolk, Omar Zayed.
Adviser: Dan Smith
Harding team members:
7th grade: Lydia Kress, Jonas Evans, Clare Morrissey, Luke Sweeney, Rhiannon Riker, Maddy Rybak, Alexandra Hodson, Sophia Monteiro, Alexandra Horton, Fia Masek, and Grace Lamparyk.
8th grade: Isabella Fallon, Lewis Fetting, Joseph Daso, Amanda Chanter, Sam Stallbaum, Miles Watts, Mia Condosta, Julia Shields, Elena Calleri, Leila Abderrazzaq, Amal Elhachdani and Julia Kavc.
Adviser: Sonja Kreps
Read More on Schools
Volume 14, Issue 9, Posted 12:39 PM, 05.01.2018