Friends Of Lakewood Library Summer Bag Book Sale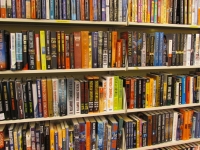 Summer's coming, and the 'Super' Friends of LPL are here just in the nick of time to help you prepare for those sunny days spent relaxing by Foster pool or sitting in your favorite shady spot on the front porch with all the books and magazines you'll need thanks to their Summer Bag Book Sale.
The Members Only Summer Book Sale preview (not a bag sale) is Thursday, May 17, 2018 from 6:00 p.m. to 8:30 p.m. You can join the Friends at the door for as little as three dollars to participate. The Big Better Books in the lower level lobby will be half price on Thursday night.
On Saturday, May 19, 2018, the Friends' Summer Bag Book Sale will be from 9:00 a.m. to 5:00 p.m. Fill a large grocery bag to the brim with regularly priced merchandise for only three dollars! The Big Better Books in the lobby and the books in the Better Book Room will all be half price.
We would like to thank our donors, the generous citizens of Lakewood, for the large amount of materials they donate to the library. The diversity of subject matter reflects the diversity of our amazing community. This, in turn, provides us with a fascinating selection of bestselling authors, classics, poetry, cookbooks, children's books, gardening guides, romances, self-help books and magazines. There are also CDs for music lovers and VHS tapes of popular movie titles for sale.
Both sales take place in the Main Library Lower Level Friends' Book Sale Area. Only cash and checks are accepted.
Read More on Library
Volume 14, Issue 9, Posted 12:39 PM, 05.01.2018