Back By Popular Demand!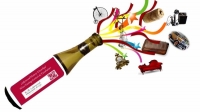 History Uncorked was first introduced by the Lakewood Historical Society in May 2017, as a fun fundraiser. Participants formed teams, brought wine to Lakewood's own Nicholson House, tasted all the wines, and voted for their favorites. The winners won numerous bottles of wine to take home with them.
Many of those who attended the event requested another competition. In response, the Historical Society has scheduled the second annual wine tasting fundraiser, History Uncorked, for May 17, 2018.
To participate in History Uncorked, simply put together a team of 1, 2, or 3 people. Purchase 3 identical bottles of Chardonnay wine. Order tickets from the Lakewood Historical Society at lakewoodhistory.org or call 216-221-7343. Tickets are $50 each, with a $5 rebate for Historical Society Members. The wine tasting will take place at the Nicholson House, 13335 Detroit Ave., on Thursday, May 17, 7:00-9:30pm.
One bottle of wine from each team will be opened for tasting and voting. The remaining unopened bottles of wine will be taken home by the teams gathering the most votes for their wines. Competitors will have the opportunity to purchase tickets for a 50/50 raffle, enjoy gourmet hors d'oeuvres, and listen to live jazz on the open porch.
$100 Sponsorships are also available for those wishing to further support the programs and the on-going mission of the Lakewood Historical Society. Call 216-221-7343 for more information.
Norine Prim
As First Vice President of the Lakewood Historical Society, I will be submitting info pertinent to the Historical Society for publication.
Read More on
Volume 14, Issue 9, Posted 12:39 PM, 05.01.2018