…And That's Real: Reviews Of Recent Releases By Local Bands, Pt. 69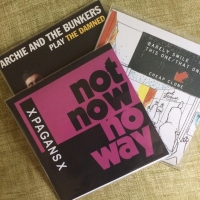 Disclaimer: Record reviews are a tricky business. It's one thing to enjoy music, but to pick out what you like (or dislike) about it? That being said, if I review your thing and I didn't like something, don't feel too bad. My opinion doesn't matter all that much.
Archie & The Bunkers - Play The Damned - In The Red Recordings - 4 songs - 7", download
Obviously, The Damned rule, so you know right off the bat with this one that all the songs on it are gonna be good. I guess the way to review a covers record when the band being covered is one you already know you like is to determine whether the interpreters did a good job with it. And I have to hand it to the Archies, they did. Side A, with "See Her Tonight" (which is misspelled, it's supposed to be "Tonite," these guys must be posers) and "Problem Child" is decent, though does make me think, "I should listen to the real Damned after this." Side B, containing "Suicide" and "Sick Of This And That" is the winner here, I'd say. Both energetic, reverent takes on the tunes. I know how much these guys (particularly Cullen) love The Damned, so I wouldn't expect any less than them giving it their best. My biggest whine here is I don't really think the brothers O'Connor themselves live these lyrics, so the believability gets called into question. I don't believe either of them have ever stolen a car, for example (this also comes up again when you look at the cover photo, which just comes across as being super forced). But then, on the other hand, you look at the original "Suicide" and you have to consider that neither Dave, nor Scabies, nor the Captain have killed themselves as of the last time I checked, so maybe that's neither here nor there. I mean, these guys played with The Damned. I don't mean opened for them, I mean went to their soundcheck and did "Suicide" with them. That's gotta count for something. A fun one for the fans. 3.5/5
(intheredrecords.com; download available via midheaven.com)
X__X - Not Now No Way - My Mind's Eye - 2 songs - 7"
I think this is the first X_X single in something like 38 years, and it also functions as a memorial record to the late Mike Hudson. X Pagans X do a surprisingly good take on "Not Now No Way" on the A side here. I'm one of those people who doesn't really get the point of putting Pagans covers on your records. I mean, sure, do it live if you want, but do you honestly feel like there's a need for you to make your own version? That said, I think these guys do a good job. It's energetic, it's chaotic, they make it their own. Towards the end, the chorus turns into "Not now, Mike's dead." The Hudson tribute continues on the flip, with John Morton's own "Karma Bank." This one kicks off with them playing "Sonic Reducer," which is definitely an F.U. to someone. Then the real tune kicks in and it's a real punk ripper. There's some psychedelic guitar action, some all over the place backing vocals…it's guitarapalooza, really; there's three guitars on here. As there should be. The record as a whole is probably the most "punk" moment yet of the reunited X Blank X. I actually like it better than the LP. Plus, the liner notes contain John D Morton's honest remembrance of Mike Hudson, which is probably (along with the record itself) the most accurate, the most touching, and, I'll say it, the best tribute to Mike you're likely to get. 4/5
(release date May 5, at which point it will probably be available at mymindseye.bigcartel.com)
Are you a local-ish band? Do you have a record out? Email vaguelythreatening@gmail.com or send it directly to Observer headquarters: The Lakewood Observer, c/o Buzz Kompier, 14900 Detroit Avenue, Suite 205, Lakewood, OH 44107.
Read More on Arts
Volume 14, Issue 9, Posted 12:39 PM, 05.01.2018