A Day In The Shadow Of A True Representation Of Character: My Day At The Statehouse With Rep. Antonio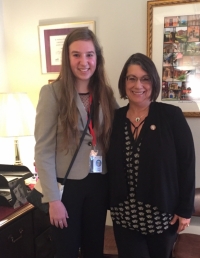 I once read that the way in which you treat someone who can do little for you is a true representation of your character. Right now, I can do relatively little for State Representative Nickie Antonio—I cannot vote, I don't have any substantial amount of money to give to her campaign, I cannot help much with political matters. But these facts did not seem to matter to her. Let me tell you a story…
I'm a high school student, a passionately curious one at that, who found herself on the phone with Rep. Antonio in the fall of my sophomore year for the sake of a U.S. History project on women's rights. I assumed (as most would) that Rep. Antonio would answer my interview questions, we would never speak again, and perhaps one day I'd see her on the news and think, "Hey! I interviewed her for that one U.S. history project!" and that would be that.
But this is not where the story ends. Before I hung up, she asked me if I'd ever want to come visit the Statehouse to see what goes on there, and I candidly responded that I would most definitely be interested. Our conversation ended there. I then sat on my bedroom floor in a vague silence for a moment before I processed the holy-crap-she-just-invited-me-to-the-statehouse-and-I-must-have-not-sounded-like-an-idiot-on-the-phone line of thought that was percolating in my brain after I hung up. People don't just get to do that kind of thing, so I arranged a day to go. I knew virtually nothing about politics, and that in and of itself was a phenomenal reason to make my way to Columbus. And so I went—it was fascinating. It was fascinating enough for me to ask Rep. Antonio about twenty questions, and she patiently answered all of them. It was fascinating enough for me to ask if I could come again someday, and she told me that I was always welcome. It was fascinating enough for me to ask if she knew of anything I could do that summer in relation to politics, and she found an internship for me. I asked so much of her, and she asked so little of me.
I knew, and still know, that she did not have to do any of those things for me. She didn't have to answer all of my emails, she didn't have to give up her time to listen to my questions, she didn't have to let me follow her around the Statehouse. Yet, she voluntarily did all of those things on multiple occasions, even though I could offer so little in return. This I believe to be a true representation of character, and character I believe to be a true indication of quality leadership. Sure, leaders need to be "smart," and "assertive," and "eloquent"—all of those traits we generally associate with some of history's greatest leaders. That's all bright and dandy, but most of us can probably agree that such traits suddenly lose their value if, at the leader's core, they are just there for the money, or the prestige, or the power, or they're narcissistic, or they're arrogant, or they disregard the best interests of their constituents. What makes a leader truly worthy is the purity of their intent and the strength of their character.
Rep. Antonio gave her time to me because she wanted to, not because she had to. She did so much for me, even though I could do so little for her. This I believe to be a true representation of her character. You and I may not agree with every single thing she's ever voted for or supported, and that's to be expected, but what matters significantly more than that one bill you wish she didn't vote for is the fact that she is willing to do what she can to better the lives of those she represents—even those who can do nothing for her.
In my short existence on this planet, I have lost an awful lot of faith in people, specifically those who hold positions of power. I have learned to question people's motives. I have learned to expect disappointment from many. I have learned to question their character. But I have yet to question the motives of Rep. Antonio. She has yet to let me down. I have yet to question her character. And for these reasons I have a great deal of respect for her; I feel honored to know her and to learn from her. With that, Rep. Antonio is running for Senate District 23, and I believe it is safe to say that if she is elected to serve, it will be in good, honest, and truly caring hands.
Elizabeth Halko
State Representative Nickie J. Antonio (D-Lakewood) is honored to be serving her fourth term in the Ohio House of Representatives. House District 13 includes the city of Lakewood in its entirety and parts of Cleveland's West Side neighborhoods. Representative Antonio is a civic-minded public servant who is concerned with the quality of life of those around her and has been a social justice advocate working for human rights and equality for all people for more than two decades. Antonio is an alumna of the Harvard Kennedy School Senior and Executive Leadership program for State and Local governments. The first in her family to graduate from college, Antonio holds a Master of Public Administration Degree from the Maxine Levin College of Urban Affairs at Cleveland State University as well as a Bachelor of Science Degree in Education from CSU. She is a graduate of Lutheran West High School located in Rocky River, Ohio. Antonio currently serves on the currently serves as Ranking Member of the Health Committee. She also serves on the Finance Committee, Finance Subcommittee on Higher Education, the Joint Medicaid Oversight Committee and the Joint Legislative Ethics Committee. Rep. Antonio is a member of the Ohio House Democratic Women's Caucus—previously serving as chair—and is the state director for the Women Legislators' Lobby. Rep. Antonio was also a member of the Democratic Leadership and served as the Minority Whip. Daughters Ariel and Stacey, both Lakewood High School graduates, have made Rep. Antonio and wife Jean Kosmac very proud as the girls engage in their post-secondary pursuits.
Read More on
Volume 14, Issue 9, Posted 12:39 PM, 05.01.2018