Democrats Vote For Central Committee Members May 8th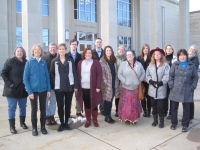 Lakewood Democrats may soon be getting a knock on the door or a phone call from a fellow Democrat and neighbor vying for their vote in the upcoming elections for the Cuyahoga County Democratic Party Central Committee. On May 8th, Democrats running for Lakewood Precinct Leader will be on the ballot, and this year, a record number of fresh faces are competing for these elected party positions.
The Central Committee is the governing body of the Cuyahoga County Democratic Party. Every four years, Democrats elect precinct leaders (precinct leaders make up the Central Committee) to represent their voice and precinct to the County Party. They inform local voters on important issues and often serve as a link to elected officials as well as to Democrats running for office. Any registered Democrat may run for the Central Committee to represent the precinct in which they live; thus, they are elected by other registered Democrats living in their precinct. Lakewood has 37 precincts.
This year, a new crop of candidates is running for the Central Committee in response to the current political landscape. Too many of the current precinct leaders haven't gone out into their neighborhoods to connect with other Democrats. Subsequently, many Lakewood Democrats are unaware of the structure of the party, the importance of the Central Committee, or who their precinct leader is.
That is why it is so encouraging to hear many of the candidates running for the Central Committee say they want to connect with their fellow voters and help more Democrats get elected. Glenn Campbell, candidate for 2D says, "We need to turn out the votes of every Democrat in our neighborhoods, in every single election, to make Ohio much purpler and even blue again in statewide elections." Or, Brad Presutto running in 2H, "Our last election in Lakewood only had a 21% turnout. I want to help energize my neighborhood to help raise the turnout in Lakewood to help Democrats win statewide elections."
Almost every precinct in Lakewood has a candidate running for the Central Committee. You may recognize some of the candidates as neighbors—many are first-time candidates and newcomers to political campaigns. Greg Murray, candidate in 2F, has been active in Lakewood politics this last year as a strong voice opposed to Breed Specific Legislation, and Steven Norris, running in precinct 1G, was inspired after local workers lost the fight for the $15 per hour minimum wage.
Laura Rodriquez-Carbone, candidate in 1B, is a newcomer who has become very involved within Lakewood over the last year, "As a party, we need to keep our history in mind, and look for ways to actively continue to spread Democratic values of compassion, fairness, hope, and inclusion locally says Laura. "Getting people involved and connected to cohesive networks will strengthen the party and position us to win local, state and national elections." Some candidates are long-time politicos like former school board member Debra Sweeney, candidate for 2E, or Councilwoman Meghan George who is running in 3H.
Overall, this group of candidates is diverse and all are activists in their own right. They believe they can make a difference to help energize voters and make the Democratic Party stronger. Kathy Dann, candidate in 2A, is a teacher who believes having a bigger voice in the party can help education in Ohio. She says, "I want to put the democracy back into the Democratic Party so that we can make sure our children get a great education and are safe at school."
Please vote on May 8th (Early Voting started April 10th) for the following group of exceptional candidates running for the Central Committee: Laura Rodriguez-Carbone 1B, Teresa M. Schleicher 1D (write in her name), Kathleen A. Curran 1F, Steven Norris 1G, Catherine (Kate) A. McCarthy 1I, Kathleen Dann 2A, Evan Filipek 2B, Michael G. Cook Jr 2C, Glenn R. Campbell 2D, Debra Sweeney 2E, Gregory Murray 2F, Bonnie Sikes 2G, Bradley A. Presutto 2H, Jeanne N. Mackay 3A, Trudy Hutchinson 3C, Assadulla (Assad) Khan Khaishgi 3F, Brian M. Taubman 3G, Councilwoman Meghan F. George 3H, Christine S. McConnell 3I, Kathleen M. Reynolds 4B, Barbara L. Bingle 4D, Lain Pierce 4E, John Kyle Moyer 4G, Emily Christescu 4H, and Eric Deamer 4J.
Visit the Cuyahoga County Board of Elections website to check to see what precinct you live in and find your voting location. Remember, vote on May 8th or earlier and consider voting for one of these hard-working candidates trying to make a difference in Lakewood. As Trudy Hutchinson who is running in 3C says, "I'm running because Lakewood is a community that cares about the future. My goal is to connect more voters to this positive message." Or, Emily Christescu, candidate running in 4H, who captures the spirit of many in this group of candidates when she explains, "I'm excited about this opportunity to connect with my neighbors and make a difference in our community. It's energizing to meet others who are engaged, concerned about the issues affecting us, and committed to fulfilling their duty as citizens by voting."
Read More on Other
Volume 14, Issue 9, Posted 9:38 PM, 04.21.2018