Sunday With The Friends: The Cleveland Opera Performs April 29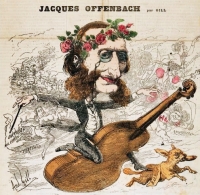 Discover the joys of opera as The Cleveland Opera performs at Lakewood Public Library on Sunday, April 29, 2018 as part of our popular Sunday with the Friends program. The 2:00 p.m. show will be a free performance of Le Mariage aux Lanternes, or Marriage by Lantern-Light, by Jacques Offenbach.
Cleveland Opera brings opera to unique venues throughout Northeast Ohio in fun, affordable and accessible ways. The talented ensemble travels along singing their collective hearts out while simultaneously charming the seasoned opera lover and winning the hearts of a whole new group of fans, who are often surprised to find opera so relatable.
For example, 161 years have passed since "Marriage by Lantern Light" first played in 1857 Paris, but the laughs and pathos still resonate with the modern audience. It is the story of a young farmer, Guillot, who takes in his orphaned cousin, searches for a promised treasure by the light of a lantern and is pursued by love… and other things. Both sentimental and hilarious, this one act operetta will be performed in English by a gifted cast.
Come and watch The Cleveland Opera prove once again that the world is always in the mood for great music and a timeless romantic comedy. The performance will be on our stage at the Main Library Auditorium at 15425 Detroit Avenue.
Read More on Library
Volume 14, Issue 8, Posted 3:27 PM, 04.17.2018