Outback Ray's Amazing Animal Show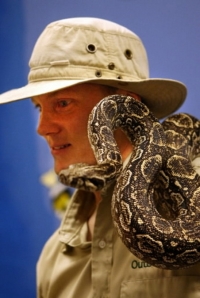 Have you ever seen a red-footed tortoise, a dwarf caiman, a silver fox rabbit, or a 13 foot Burmese python? These are just some of the animals that Outback Ray might bring to his upcoming performance at the Lakewood Public Library. Outback Ray has had a passion for animals since he was a child and has been doing live animal shows since 1987. He has appeared on television, radio talk shows, and has trained animals for commercials. Outback Ray shares his knowledge with the audience as he tells fascinating facts about each of his beloved animals. All of Outback Ray's animals live in his home as pets and are given the greatest care possible. The animals are trained and handled daily to ensure the safety of the audience as well as the animals. Bring your family to this educational and fun program and give them the opportunity to see these and other exotic animals.
Outback Ray will be entertaining families at the Lakewood Public Library on Saturday, April 21, 2018 at 7:00 p.m. in the Multipurpose Room. Come see the animals up close and learn something, too.
Read More on Library
Volume 14, Issue 8, Posted 3:27 PM, 04.17.2018