Nickie J. Antonio Makes Run For State Senate District 23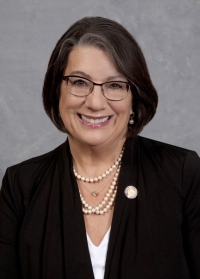 My Name is Nickie J. Antonio. For the past eight years I have been honored to serve as the State Representative for Ohio House District 13. I am now running in the open seat for Ohio Senate in District 23 to become your next State Senator. The seat is open due to the fact that our current Senator, Michael Skindell, is term limited.
Those of you who are aware of my hard work and love for our communities may not know where my sense of pride and dedication for Northeast Ohio comes from. My family has lived, worked, worshipped and built the communities in the district for generations. Both the Antonio and Schwarz families emphasized hard work and service to our country to their children and descendants. They worked long hours; my Uncles and Grandfather in the steel mills, my Grandmother and Aunts on assembly lines, my Mom in a department store, my Dad in construction, and my other Grandfather driving both a bus and a cab in transportation. I got my hardworking, middle class roots from all of them. I learned the value of collective bargaining for good pay and a safe working environment, and how important equal pay for equal work truly is.
Jean and I have worked to pass these values of hard work and service down to our daughters Ariel and Stacey. And I know these are the core values we see in the communities throughout Senate District 23. Senate District 23 includes the west side of Cleveland and neighborhoods of West Park, Kamms, Gordon Square, Old Brooklyn and the cities of Brooklyn, Brooklyn Hts., Brookpark, Cuyahoga Hts., Lakewood, Linndale, Middleburg Hts., Parma, and Parma Hts.
What I love about our communities is that we are a proud, hard-working people who strive to make a good life for all of our families; growing up here, I learned this firsthand.
I've served as the State Rep. and leader in the Ohio House as Minority Whip, as well as the highest-ranking Democrat on the Health Committee. I've been able to pass legislation such as the historic Open Records Adoption Bill by working in a bi-partisan way and I've brought millions of dollars back to the district for Capital improvements for our schools, arts organizations and communities. I have proven that I know how to get things done. As a parent and former teacher I will work to bring resources to our schools so our children can have the best opportunities for success.
Always guided by my family legacy of hard work and service, I ask for your consideration and your vote. As your next State Senator, I am a proven, trusted, progressive leader. Together we can make a difference for our families and Ohio's future. Early voting has begun; I ask for your vote today, tomorrow, or on Tuesday, May 8th.
Nickie J. Antonio
State Representative Ohio House 13
Candidate for Ohio State Senate 23
Nickie Antonio
State Representative Nickie J. Antonio (D-Lakewood) is honored to be serving her fourth term in the Ohio House of Representatives. House District 13 includes the city of Lakewood in its entirety and parts of Cleveland's West Side neighborhoods. Representative Antonio is a civic-minded public servant who is concerned with the quality of life of those around her and has been a social justice advocate working for human rights and equality for all people for more than two decades. Antonio is an alumna of the Harvard Kennedy School Senior and Executive Leadership program for State and Local governments. The first in her family to graduate from college, Antonio holds a Master of Public Administration Degree from the Maxine Levin College of Urban Affairs at Cleveland State University as well as a Bachelor of Science Degree in Education from CSU. She is a graduate of Lutheran West High School located in Rocky River, Ohio. Antonio currently serves on the currently serves as Ranking Member of the Health Committee. She also serves on the Finance Committee, Finance Subcommittee on Higher Education, the Joint Medicaid Oversight Committee and the Joint Legislative Ethics Committee. Rep. Antonio is a member of the Ohio House Democratic Women's Caucus—previously serving as chair—and is the state director for the Women Legislators' Lobby. Rep. Antonio was also a member of the Democratic Leadership and served as the Minority Whip. Daughters Ariel and Stacey, both Lakewood High School graduates, have made Rep. Antonio and wife Jean Kosmac very proud as the girls engage in their post-secondary pursuits.
Read More on
Volume 14, Issue 8, Posted 3:27 PM, 04.17.2018