LHS Artists Earn Top Honors In Rotary/Beck Contests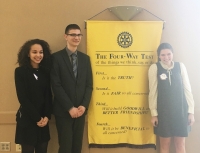 Lakewood High students were top award-winners in the 73rd annual Rotary Club of Lakewood & Rocky River Speech, Music, and Visual Arts Contests. Lakewood students swept the speech category and took the top two spots in visual arts.
Contest participants are students from the five Lakewood and Rocky River high schools including Lakewood High School, Lutheran High School West, Magnificat High School, Rocky River High School, and St. Edward High School. Awards are given for first through third place and then Honorable Mentions are awarded at the judges' discretion.
Earning first place and $750 in the Speech contest was junior Nicholas Cleary. Second and third place went to sophomore Taylor Heckel ($500) and junior Gabby Murray ($300), respectively.
​​​​Senior Elyza Mihalski won first place in visual arts, earning $500, and senior Micah Inak was awarded second place and $350. Junior Riley Geyer's work earned an Honorable Mention and $75.
In the music category, senior Hannah Cogar placed second and won $350 for her vocal piece, "Gia il Sole dal gange," by Scarlatti. Senior Emily Erhardt earned third ($275) for her flute performance of "Sonate pour Flute et Piano," by Poulenc. Senior Grace Cooper earned an Honorable Mention ($125) for her string bass piece, "Sonata 1, Movement 1 & 4," by Vivaldi.
"The entire event is truly a celebration and demonstration of amazing young talent right here in our community," said Ed Gallagher, Beck Center for the Arts' Director of Education.
The winners received their awards at a reception on April 8 at Beck Center for the Arts.
Congratulations to all the talented students and the teachers who helped them achieve at such a high level!
Read More on Schools
Volume 14, Issue 8, Posted 3:27 PM, 04.17.2018