Celebrate Spring With Earth Day, The Great American Cleanup, And Keep Lakewood Beautiful!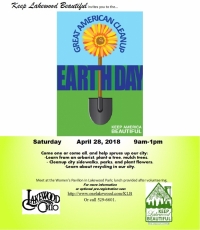 Spring sunshine and warmer winds have finally arrived here in Lakewood, Ohio. The Keep Lakewood Beautiful organization is celebrating this time of year with its Annual Earth Day and Great American Cleanup on April 28th from 9am-1pm beginning at Lakewood Park. Come one or come all and help spruce up public areas in our city. Learn about recycling, learn from an arborist, and you can help:plant trees in observance of Arbor Day, plant flowers, mulch trees, or pick up litter. Meet at the Women's Pavilion at Lakewood Park. Lunch will be provided after volunteering. For more information or optional pre-registration requested, please see:http://www.onelakewood.com/KLB or call 529-6601.
Be sure to take home a free seedling tree. Keeping with one of the mission goals of Keep Lakewood Beautiful, education, we partnered for the 6th year with the Horticulture class at Lakewood High School. We will be giving away 10 varieties of free seedling trees that have been potted by Lakewood High School Horticulture students under the expertise of the new Horticulture teacher, Mrs. Shannon Snare. Keep Lakewood Beautiful purchases all the supplies needed for this annual classroom experience where students learn how to and then also actually plant bare root tree seedlings in pots. The pots are kindly donated by Lakewood Garden Center. Thank you LHS students for your help! We have several varieties to choose from that particularly fit most Lakewood yards. Trees provide us with beauty and many benefits: they help purify the air we breathe by absorbing pollutants and produce oxygen, increase property values, shade and cool our buildings and paved surfaces, reduce the amount of water and pollutants in sewer systems, provide habitat for birds and other wildlife, and foster safer, more sociable and attractive neighborhood environments.
We hope you can join us and learn more about trees and flowers from some experts who will be present to guide us as we work. Then take home a tree seedling for FREE for your yard, while supplies last! Please drop by on April 28th and help Keep Lakewood Beautiful!
The Keep Lakewood Beautiful (KLB) organization was initially created in September 1982 to promote civic involvement through public interest in the general improvement of the environment of Lakewood. It maintains an affiliation with Keep America Beautiful. The volunteer board initiates, plans and coordinates programs for litter prevention, solid waste reduction, recycling and green space beautification such as Earth Day, Great American Cleanup, Spring Humus Sale (on 5-19-18), over 50 Adopt-a-Spot Gardens, Beautiful Home Awards, and the Tree Committee. For more information or to support the Keep Lakewood Beautiful organization see: http://www.onelakewood.com/KLB or call 529-6601.
Marianne Quasebarth Usiak is Lakewood citizen a KLB Volunteer Board Member.
Marianne Quasebarth Usiak
Lakewood Citizen and Volunteer Board member of Keep Lakewood Beautiful
Read More on Features
Volume 14, Issue 8, Posted 3:27 PM, 04.17.2018