Dr. Michael Barnes Selected To Be Next Superintendent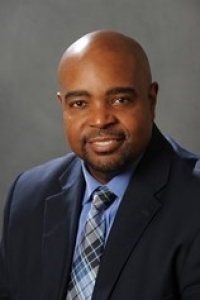 The Lakewood Board of Education, at a special meeting March 28, approved Mayfield City School District Assistant Superintendent Dr. Michael J. Barnes as the next Superintendent of Lakewood City Schools.
Board Vice President Linda Beebe said Barnes met many of the criteria the Board was looking for in a leader.
"A priority in the superintendent search was to find a leader who is an effective communicator with a strong vision to facilitate the goals of the District. Someone who is creative and knowledgeable. Dr. Michael Barnes is all of this," Beebe said. "He is service oriented and collaborative. He is committed to supporting the needs of every child and educating the entire child. He is a leader for the 21st century."
With Superintendent Jeff Patterson's retirement announcement coming so early in the school year, the Board was able to take its time in finding the right candidate and was able to solicit substantial feedback from all stakeholders via interviews, listening sessions and an online survey. More than 800 parents, staff and community members responded to the survey. The Board when interviewing candidates took heed of the qualities community members expressed that they wanted to see in the next leader for their schools.
"From the start, the Lakewood Board of Education was committed to listening to its main stakeholders, and sought and reviewed extensive input about the future needs of the District, prior to interviewing candidates," Beebe said.
"Lakewood's stakeholders expect a superintendent to be an active learner, as well as a strong leader. Common themes that arose highlighted the importance of a superintendent who prioritizes collaboration, empathy, strategy, financial management, appreciation of all people, and, as important as any, making sure the District teaches the whole child," Beebe said.
"The stakeholders' vision sets a high standard for the next superintendent, but it is a standard the Board of Education is confident Dr. Barnes can meet and exceed," Beebe said.
Dr. Barnes began his educational career as a Social Studies teacher for 11 years at Mayfield High School and continues to teach as an adjunct instructor for both Ursuline College and Cleveland State.
Dr. Barnes moved into administration when he was hired as an Assistant Principal for Euclid High School in 1998. He held that job for two years before taking the same position at Charles F. Brush High School for a year. Later, he returned to the Mayfield Schools as Director of Athletics. Before becoming Mayfield's Assistant Superintendent, he held the position of Director of Human Resources and Business Operations.
He is the president-elect of the Ohio Association of School Personnel Administrators Association and the current president of the group's Northeast Ohio chapter.
Dr. Barnes holds a doctorate degree in Leadership & Organizational Development from Nova Southeastern University, a master's in Secondary School Administration from Cleveland State University and a bachelor's degree in Political Science from Edinboro University.
Dr. Barnes said he and his family couldn't be more excited and thankful about coming to Lakewood.
"The Board of Education has been tremendous throughout this process and I am so very grateful to be the next Superintendent of the Lakewood City School District," he said. "I am especially excited to meet the students, staff, administrative team, parents, and community members of this great city. I am looking forward to serving the District and continuing the great traditions and educational excellence that are already present within the Lakewood Schools."
Dr. Barnes, who signed a 3-year contract, will replace Jeff Patterson, who will be retiring July 31 after seven years as Superintendent and 12 years with the District. Dr. Barnes will also have 15 transition days before his August 1, 2018 start date to work with Superintendent Patterson.
The Board will hold a meet-and-greet reception for Dr. Barnes prior to its regular Board meeting on April 9 at Horace Mann Elementary. The reception will begin at 6 pm in the cafetorium and the public is invited to attend.
Read More on Schools
Volume 14, Issue 7, Posted 12:07 PM, 04.03.2018