A Cleveland Counterculturalist: Celebrating d.a. levy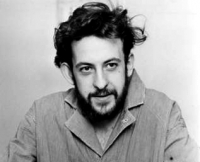 Do you have an interest in Cleveland's history, in literature, in music, or in the 1960s counterculture movement? If you answered yes to any of these questions, you will be excited to learn that the Lakewood Public Library is hosting a program that incorporates all of these things. On Sunday, April 15, 2018 at 2:00 p.m., the performance group WordStage will bring a production on d.a. levy to the Main Library Auditorium.
Over the course of his short life (1942-1968) d.a. levy was influential as a poet, artist, and alternative publisher. Though born Jewish, he became a believer in Buddhist principles. An important figure in Cleveland's underground literary scene in the 1960s, levy had a small press and published his own and others' works. He also founded Cleveland's first underground newspaper, the Buddhist Third-Class Junkmail Oracle.
Much of levy's work was dedicated to writing about Cleveland. His relationship with the city was complicated and sometimes contentious. He wrote about the city's charm and its rough edges, but sometimes felt that Cleveland had let him down, declaring in one poem, "cleveland, i gave you/the poems that no one ever/wrote about you/and you gave me/NOTHING." levy was a believer in justice and a critic of the politics of his time. In 1966 and 1967 he was arrested for distributing obscene writing, though the charges were dropped. In 1968 levy died of an apparently self-inflicted gunshot wound.
WordStage is a chamber music reader's theater, using the spoken word and music to celebrate literature and the performing arts. This group has performed widely around the Cleveland area. Audience members rave, commenting that the performances are "lovely, educational, and delightful…the poetry and music enhance each other," and requesting "more programs like this!" In our upcoming program, members of WordStage will turn their talents to words and music that celebrate d.a. levy's life and works.
Read More on
Volume 14, Issue 7, Posted 12:07 PM, 04.03.2018