Two LHS Students Earn National Art Awards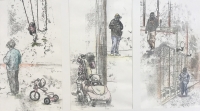 Lakewood High School senior Jordan Bozak and junior Emily Perry have been named national Silver Medal winners in the prestigious Scholastic Art & Writing Awards presented by the Alliance for Young Artists & Writers. This competition is the nation's longest-running and most prestigious recognition program for creative teens in grades 7–12.
Within the contest's 29 categories, which include poetry, photography, sculpture, humor, editorial cartoons, and video game design, a record-breaking 346,000 works of art and writing were submitted for adjudication at the regional level this year.
Bozak won her Silver Medal, which represents "high honors on the national level," in the Printmaking category and Perry in the Drawing & Illustration category. The two will be honored along with the other national winners and their teachers at a ceremony June 7 at Carnegie Hall. The 2,800 national winners represent 3% of the 85,000 artists that advanced from their regional competitions across the country in January.
"The students being recognized join a legacy of teens facilitating important dialogue through their art and writing. We celebrate these innovative teens as members of the next generation of great American artists and writers," Virginia McEnerney, Executive Director of the Alliance for Young Artists & Writers said in a statement.
In addition to Bozak and Perry, nine District students were named Golden Key winners at the regional level and also had their work judged at the national level. Those regional winners were: Inga Wilhelmy of Harding; Lakewood High art students Calvin Dolatowski, Solace Duval, Kazimir Klein, and Anastasia Seckers; and West Shore students Sara Bitter and Riley Geyer.
The Scholastic Awards were founded in 1923 to offer recognition and scholarships for students for their artistic talents.
Read More on
Volume 14, Issue 6, Posted 7:14 PM, 03.20.2018