MTA: Author Craig Sanders And The Cuyahoga Valley Scenic Railroad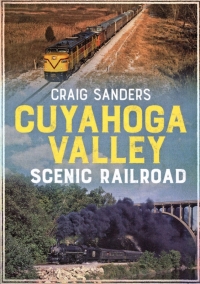 The railroad tracks that curl across our American countryside remind us how interconnected the history of the railroad is with that of our nation's history. "The Cuyahoga Valley Scenic Railroad," by author Craig Sanders, details the life and times of a local train system that has become a favorite feature of Northeast Ohio's Cuyahoga Valley. Sanders will visit Lakewood Public Library as part of our Meet the Author series on Thursday, March 29, 2018 at 7:00 p.m. The meeting will take place in the Main Library Basement Auditorium.
Since the 1970s, the Cuyahoga Valley Scenic Railroad has been carrying passengers on tracks originally laid in the 1880s. It is the longest continuously running national park-based railroad with the highest level of operations and ridership as well. Daily excursions travel through the beautiful landscape of the Cuyahoga Valley National Park and surrounding areas.
Craig Sanders is the author of seven railroad history books and the president of the Akron Railroad Club. Books with be available for sale and signing at this event.
Read More on Library
Volume 14, Issue 6, Posted 7:14 PM, 03.20.2018