March "Magical" Madness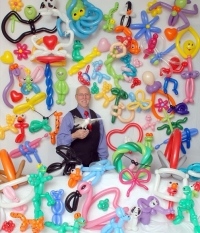 Tired of all the basketball hoopla? Then join us for a little March "magical" madness at Lakewood Public Library on Saturday, March 24, 2018. Robert E. from Cleveland Magic and Balloons will delight children of all ages with his magical illusions and amazing balloon creations. The entertainment begins at 7:00 p.m. in the Main Library Multipurpose Room.
Cleveland Magic and Balloons was not only voted the Best in CLE in 2016 by Cleveland Magazine but is one of the best in the country. Robert E. has served on the U.S. team at the World Balloon Convention in New Orleans.
This magic show is part of the Library's Family Music & More series and is free and open to the public. Once a month the Library presents an evening of entertainment appropriate for the whole family. So pack up the kids, grab the grandparents and join us for a night of magic.
For more information about this and other youth programs and activities at Lakewood Public Library, please stop by the Children's and Youth Services desk at the Main Library, call (216) 226-8275, ext. 140 or visit www.lakewoodpubliclibrary.org.
Read More on Library
Volume 14, Issue 6, Posted 7:14 PM, 03.20.2018