Lakewood Dairy Queen Celebrates 40th Anniversary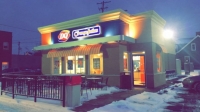 The City of Lakewood has many businesses that have been around for extended periods of time and are staples in our great city. Lakewood Dairy Queen opened in 1978 and is celebrating their 40th Anniversary this April!
Since Dairy Queen's debut in 1978, they have been involved in the community on various levels such as fundraising for different organizations and giving donations and volunteer time for different activities that the community has engaged in. The store has taken on two remodels over the years to help ensure that the business continues to thrive for its community!
Lakewood Dairy Queen would like to thank the community of Lakewood for its help in its continued success by expressing their deepest gratitude and appreciation for their 40th Anniversary! Join Lakewood Dairy Queen for several different promotions throughout the month of April! Each week there will be a different day with a different promotion! Lakewood Dairy Queen couldn't have done it without the great City of Lakewood as well as customers like you!
Beginning Friday April 6, Dairy Queen will be hosting Receipt Day- Buy once, eat twice! On Thursday April 12, Throwback Thursday- say the word "scrumpdillyishus" and receive a Peanut Buster Parfait, Buster Bar or Dilly Bar for .49 cents! On Wednesday April 18th, dress up in 1970's attire and receive 40% off your order (limitations apply)! On Tuesday April 24, join Lakewood Dairy Queen for a .40 cent small cone! To close their celebration, stop in on Monday April 30th, to receive a bounce back small blizzard coupon, with purchase!
Once again thank you for the past 40 years, this celebration is for great customers like you! Visit our Facebook page, Lakewood Dairy Queen, to stay connected all year long for special promotions and updates!
Kelly Toole
Kelly Toole
Lakewood Native
Read More on Business News
Volume 14, Issue 6, Posted 7:14 PM, 03.20.2018