Four Students' Work To Hang In Governor's Youth Art Exhibition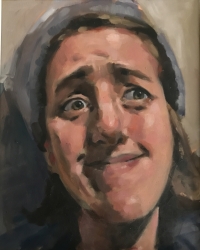 Lakewood High students had the most pieces of artwork ever selected to be part of the Ohio Governor's Youth Art Exhibition in Columbus. Six works were chosen, including four by senior Elyza Mihalik, whose "Here is Goofy" piece earned a top 25 Governor's Award of Excellence. Also earning a spot in the 300-piece exhibit are Riley Geyer, Husam Mafargeh and Micah Inak.
Elyza, Husam and Mafargeh are in Amy Sedlak's Art 4 class and Riley is in Anne McQuay's Media Art & Design class in the West Shore Career-Tech District.
Judges received more than 1,000 entries from high school students across Northeast Ohio and from those, 126 were selected to join winners from the other Ohio regions to be judged at the state level to determine which pieces of art will hang in the James A. Rhodes State Office Tower in Columbus for the exhibition, which runs from April 22-May 17.
In addition to the four pieces selected to be shown in Columbus, 26 other pieces of art by LHS and West Shore Career-Tech students were honored at the regional competition and moved on to state judging. The students who earned regional recognition are:
Micah Inak- 7 pieces
Elyza Mihalski- 4 pieces
Husam Mafargeh- 2 pieces
Marisa Campbell - 3 pieces
Isabella Smith – 2 pieces
Sara Bitter
Morgaine Brennan
Deanna Burke
Marissa Doi
Madisyn Kelly
Heather Orosz
Sarah Pepe
Anastasia Seckers
Avery Waffen
Fern Wentzel
Hannah Wolfe
From the 11,500 regional entries from the 15 regions, approximately 2,500 are selected to enter the state judging. State jurors then select 300 for the actual exhibition, with 25 of the 300 chosen to receive the Governor's Award of Excellence. Scholarships are offered to seniors by over 30 universities and colleges of art.
The Ohio Governor's Youth Art Exhibition, now in its 48th year, is open to all of Ohio's high schools, both public and private. Its purpose is to provide all budding young artists of the state with opportunities to advance their talent, whether that be through scholarships or simply experiencing the process of entering their work in a competition.
Read More on Schools
Volume 14, Issue 6, Posted 7:14 PM, 03.20.2018