Attention Lakewood Businesses: Lakewood Women's Club Looking For Event Sponsors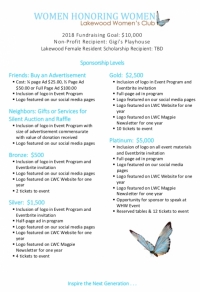 Who:​Lakewood Women's Club to Host Second Annual Fundraiser
What:​ "Women Honoring Women"
Keynote Speaker: Nancy Gianni, Founder, GiGi's Playhouse
Where:​Georgetown | Vosh, 1414 Riverside Dr, Lakewood, OH 44107
When:​6:30 p.m., May 10, 2018
Why: ​The purpose of Women Honoring Women is to recognize outstanding women in the community whose charitable and civic service have made an exceptional impact in Lakewood.
Why Should You Be A Sponsor?
The Lakewood Women's Club has a longstanding tradition of volunteering and giving back to our community. One of the ways we support this practice is by hosting Women Honoring Women.
The proceeds from this event will support a scholarship for a female, college-bound, Lakewood resident. Since its founding in 1962, Lakewood Women's Club has awarded more than $30,000 in scholarships. In addition to scholarships, Women Honoring Women will also provide grant money to a local non-profit organization. Funds raised this year will go to GiGi's Playhouse, an organization that provides free programming to children and adults with Down syndrome.
To meet our goal for this year's event, we are seeking sponsorships from the local community. Please take a moment to review the sponsorship opportunities listed here: https://lakewoodwomensclub.weebly.com/sponsorship-and-donations.html.
Commitment Deadline: April 15
Contact:​Kristy Feyedelem ​(216) 375-9225 ​E-mail:​kfeyedelem@yahoo.com Website:​http://bit.ly/WomenHonoringWomen2018

Kristy Feyedelem
Kristy Feyedele, Social Media Publicity & Public Relations Chair for The Lakewood Women's Club & their Spring event, Women Honoring Wimen.
Owner and Photographer at SunnyDay Photography. Mom to Abby (12) and Lyla (5) at Menlo Park Academy.
Read More on Non-Profit
Volume 14, Issue 6, Posted 7:14 PM, 03.20.2018