An Update From Representative Antonio On House Bill 302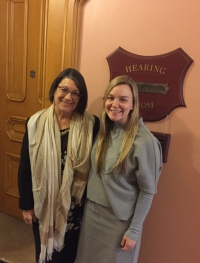 I am encouraged by the developments of House Bill 302 (HB 302), a piece of legislation I introduced with Representative Kristin Boggs (D-Columbus). The bill would allow pregnant minors to consent to prenatal through delivery and follow-up health care in order to have the best health outcomes for the mother and her unborn child.
In many cases, a pregnant minor may become estranged from her family, causing her to receive less adequate prenatal health care as the parent or guardian will not accompany her to medical appointments and provide the necessary consent.
Ohio is one of just 13 states​ that makes no exception for pregnant women under the age of 18 to consent to prenatal, delivery, and postnatal care and we are determined to change this through this legislation.
In Ohio, the only exception​ for minors to receive medical treatment without parental consent is when the care is for emergency services. This has a significant impact on the delivery care a pregnant teenager receives. In Ohio, a doctor cannot perform the cesarean section without parental consent, until her delivery condition is considered a "medical emergency." This unnecessarily risks the health of the mother and unborn child.
Maureen Sweeney, a lifelong Lakewood resident and someone I've known since she was a kid playing soccer with our daughter, worked at a Cleveland-area hospital in the labor and delivery unit, contacted me about this issue. She has helped hundreds of women deliver their children, many of whom were minors in their early teens. She told me a specific story about a 15-year-old girl who was going through labor. This young woman had no family and lived on the streets or between friends' houses. Ms. Sweeney became this young women's sole source of support through her labor and delivery.
As the labor progressed, the patient requested an epidural for the pain. However, the patient was denied an epidural as the hospital needed parental consent, as it is considered an elective service rather than an emergency procedure. This young woman, who was already dealing with a serious medical procedure alone, had to endure a needlessly painful birth simply because her family was not available to support her and provide consent.
This legislation will allow the pregnant minor to consent to the best delivery and prenatal care as recommended by medical professionals, that will help keep her, and her baby, healthy—which we know is a non-partisan issue.
It is long overdue and time that legislators give young women the respect they deserve by allowing them access to more choices and autonomy over their health. HB 302 received a second hearing with proponent testimony on February 14, 2018, and I look forward receiving a third hearing on HB 302 soon.
Nickie Antonio
State Representative Nickie J. Antonio (D-Lakewood) is honored to be serving her fourth term in the Ohio House of Representatives, which began in January of 2011 with her record-breaking win as the first openly gay or lesbian ever elected to the Ohio House in the 208-year history of the Ohio General Assembly. House District 13 includes the city of Lakewood in its entirety and parts of Cleveland's West Side neighborhoods. Representative Antonio is a civic-minded public servant who is concerned with the quality of life of those around her and has been a social justice advocate working for human rights and equality for all people for more than two decades.
Antonio is an alumna of the Harvard Kennedy School Senior and Executive Leadership program for State and Local governments. The first in her family to graduate from college, Antonio holds a Master of Public Administration Degree from the Maxine Levin College of Urban Affairs at Cleveland State University as well as a Bachelor of Science Degree in Education from CSU. She is a graduate of Lutheran West High School located in Rocky River, Ohio.
Antonio currently serves on the currently serves as Ranking Member of the Health Committee. She also serves on the Finance Committee, Finance Subcommittee on Higher Education, the Joint Medicaid Oversight Committee and the Joint Legislative Ethics Committee. Rep. Antonio is a member of the Ohio House Democratic Women's Caucus—previously serving as chair—and is the state director for the Women Legislators' Lobby. Rep. Antonio was also a member of the Democratic Leadership and served as the Minority Whip.
Daughters Ariel and Stacey, both Lakewood High School graduates, have made Rep. Antonio and wife Jean Kosmac very proud as the girls engage in their post-secondary pursuits.
Read More on Features
Volume 14, Issue 6, Posted 7:14 PM, 03.20.2018