Eagles Cruise Past St. Ignatius in District Championship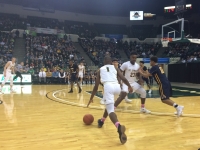 St. Edward won its second consecutive district championship on Saturday night at CSU's Wolstein Center. They defeated their arch-rivals from St. Ignatius 71-57 in a game that wasn't as close as the final score indicated. The Eagles completed a three game season sweep of the Wildcats, having won both regular season contests earlier in the year.
St. Ignatius held its own for the first few minutes of the game, only trailing 9-7 midway through the first quarter. That's when Eagle senior PJ Flannery hit a three pointer to stretch the lead to five. Flannery, who was held to five points and zero three pointers in the Eagles previous game against Lakewood, hit another three less than ninety seconds later that made the score 17-9. Wildcat senior Luke Wiskes scored 11 points in the first period to keep the Wildcats in the game...the margin at was 21-16 at the end of the first quarter.
The Eagles opened the second period on a 7-0 run to take a 28-16 lead and put the Wildcats back on their heels. The lead stood at 39-26 with two minutes left in the half. That's when the Eagles stunned St. Ignatius with a frantic 9-0 run to close the period. Sophomore Montorie Foster, who had 13 points in the first half, opened the run with a basket. Flannery followed with another three pointer only 15 seconds later. Then sophomore Grant Huffman scored a pair of transition baskets off blocked shots to drive the Eagle fans into a frenzy and make the halftime score 48-26.
The lead ballooned to thirty points midway through the third period, and the game was venturing close to "OHSAA Running Clock" territory. However, the Wildcats cut the lead down to 23 by the end of the third quarter. The Eagles led 63-40 at the break, and the outcome was not in doubt. St. Ignatius continued to fight, and outscored St. Edward 17-8 in the final period make the final score 71-57.
Four different Eagles reached double digits in scoring. Foster led the team with 19 points; Huffman finished with 15; sophomore DeVontae Blanton and Flannery each scored 14. Wiskes had 22 points for the Wildcats to lead all scorers in the game.
St. Edward (22-3 on the season) moves on to face Lorain in a regional semifinal game on Wednesday night. Lorain earned its spot in the game by defeating Strongsville in the Elyria District final on Saturday. Wednesday's game will be played at the University of Akron at 7pm.
Mike Deneen
Mike Deneen has extensive experience covering sports and community stories for the Lakewood Observer. Mike has been a Senior Industry Analyst for the Freedonia Group in Cleveland, Ohio, since 1998. He has appeared on CNBC's Closing Bell, NPR's MarketPlace and has been quoted multiple times in The Wall Street Journal. He has made multiple guest appearances on ESPN Cleveland radio. Mike also writes for Inside Northwestern, a website that covers Northwestern Wildcat Athletics. You can reach him on Twitter at @MikeDeneen1
Read More on Sports
Volume 14, Issue 6, Posted 11:31 PM, 03.10.2018