3rd Annual "Marge Madness" Basketball Tournament Fundraiser For St. Joseph Academy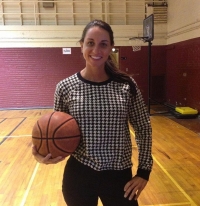 In conjunction with St. Joseph Academy, the Daniels-Green family is having their 3rd annual "Marge Madness" basketball tournament to raise funds for the Maggie Daniels Memorial Scholarship. The tournament will be held on March 25th at St. Joseph Academy on Rocky River Dr., Cleveland. The tournament will be 3-on-3 format basketball games. There will be a raffle and silent auction. A social hour Saturday evening, 5-8:30 pm, will be held at the Masthead Brewing Company.

Maggie was born and raised in Lakewood. She attended St. Luke grade school, St. Joseph Academy and eventually graduated from Magnificat HS. She went on to get her teaching degree from Notre Dame College. All through these years Maggie played basketball. Maggie then relocated to Hickory, NC, where she became an English Literature teacher and basketball coach. After five years in the Newton-Conover school system, Maggie transferred to Discovery HS in Newton, NC. She aspired to be a student counselor and as such, enrolled at Appalachian State University to get her degree. She was one week shy of getting her degree when she taken from us in a violent crime.

Tournament website: www.margemadness.org.


Read More on Non-Profit
Volume 14, Issue 5, Posted 9:40 PM, 03.06.2018