Lakewood Rangers Dominate Max Hayes High School 67-20, Advance to Second Round of OHSAA Tournament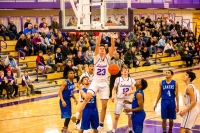 Confidence wasn't lacking from the Lakewood Rangers in their first postseason game at Lakewood's new gym.
"We thought we might [dominate]," Lakewood head coach Alex Cammock said after the game. "But not to this extent."
Cammock had a reason to be confident. His boys had won 20 of their past 21 games to close out the regular season.
That dominance continued Wednesday night.
It was the three-ball that propelled Lakewood in the first quarter. Noah Stadler drilled a three-point basket in the opening minutes, then Liam Doup followed with a pair three's. At one point Lakewood nailed four consecutive three-point shots, before finishing the game with eight three-point baskets in total.
"We can really shoot it," Cammock said. "And when we share the ball we are really good."
Click HERE to View Photo Gallery
Defense also provided a spark for the Rangers. Coach Cammock often called for a full-court trap, and the pressure forced turnovers by Max Hayes High School.
An early steal by Zion Darby paved the way for a fast break basket by Tim Smith. Plays like that were common throughout the game
Coach Cammock was pleased with the effort.
"Our defense is our backbone. When we play like that we take care of business," he said.
The Rangers were up 13-0 in the first quarter. They never looked back.
The second quarter was just as dominant for Lakewood. Once again, the Lakewood defense forced turnovers and steals. A powerful dunk by Lakewood's Tom Sala forced another timeout Max Hayes timeout, while also giving the indication the Rangers might just rout their opponent.
The second half saw the Rangers continue their cruise to victory, with strong offensive rebounding and solid possessions.
Zion Darby finished as the leading scorer for Lakewood with 10 points. Liam Doup, Noah Stadler, and Christian Marcano each finished with 9 points.
With the win, Lakewood advances to the second round to take on North Royalton. That game is slated for Saturday at 7pm in the Lakewood High School Gym.
Jacob Chabowski
Jacob Chabowski is a photographer based in Cleveland, Ohio covering news, sports, and community events. Follow him on twitter @JCPhotos17 or email him at ChabowskiPhotography@gmail.com
You can view his portfolio by clicking HERE.

Read More on Sports
Volume 14, Issue 5, Posted 9:38 AM, 03.01.2018