Strokes Of Genius Fun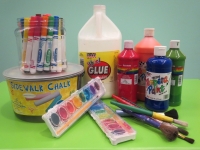 Do you enjoy art? Do you like to use markers, oil pastels and paint? Are you in the second, third or fourth grade? If you answered "yes" to these questions, sign up for the Strokes of Genius program at the Lakewood Public Library. You will have the opportunity to learn about renowned artists and then have fun creating your own masterpiece in each artist's style. Register for this program online at lakewoodpubliclibrary.org/youth or call (216) 226-8275, ext. 140. You can also register at the Children's and Youth Services desk at the Main Library or the Madison Branch.
Strokes of Genius will meet in the Main Library Multipurpose Room on Tuesdays, March 6, 2018 through April 17, 2018 from 4 p.m. to 5:30 p.m.
Read More on Library
Volume 14, Issue 4, Posted 12:12 PM, 02.20.2018