Spring Into The Spring Book Sale!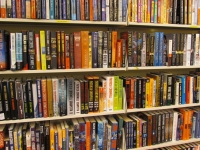 It's time for our spring book sale, and we are so excited to once again showcase one of our biggest highlights here at Lakewood Public Library. We have an amazingly large selection of materials for our beloved patrons. This time around, our special attraction for the Spring sale is in the Big Better Book area located in the main library's lower level lobby. They will all be half price, even including new materials. We will also have a nice selection of military history and transportation books for our patrons to peruse. This will be one of the featured areas in the Big Better Book section.
Our sale will take place on Saturday, March 10, 2018 from 9 a.m. to 5 p.m. in the Main Library Friends Book Sale Room and as always; for our Friends of the Library members, the preview sale will be on Thursday, March 8 2018 from 6 to 8:30 p.m. It should be noted that It's time to renew Friends memberships, for patrons who have not already done so it will be $3.00 for an individual membership.
We have permanently reduced the price of audio CDs to 25 cents, we have so much great material that has been hand selected for the convenience and happiness of our customers to be assured.
You would truly be hard pressed to walk away from our sale without something for yourself, or your family, in our treasure trove of lovely, and affordable surprises. Our eclectic and expansive collection of wonderfully accessible materials for you to enjoy has been meticulously sorted by our amazingly dedicated Friends of the Library, who spend countless hours in preparation for our sales, and who donate their time and energy to the quality of our selection.

With summer coming up, the Library is so especially grateful to our Friends of the Library, and the time they put in. Their effort to bring you the best quality; at an insanely affordable price, is actually what funds a good majority of the programs we are so thrilled to be a part of here.
Summer concerts are just around the corner, and there is so much to anticipate as the season warms up. We are looking forward to every single program, and not to mention welcoming a little more sunshine here and there.

If you have any questions about our book sale, or any of the other fantastic programs coming up, please feel free to ask one of the helpful and enthusiastic staff members behind one of our service desks. Happy spring everyone!
Read More on Library
Volume 14, Issue 4, Posted 12:12 PM, 02.20.2018