Snow Blowing Man - Rob Spargo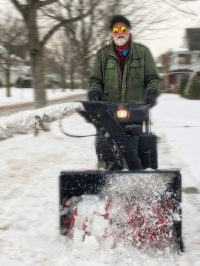 One Shovel Wide - Not Enough For Snow Blowing Man

Gary Rice years ago started a concept called "One Shovel Wide." Simply put, if you cannot get out to clean all of the snow from your walks, people should try to at least clear one shovel wide. A low effort, take your time, do not overwork yourself, but make an effort to give people a clear walk way past your property. It was immortalized in song and video on You-Tube = https://www.youtube.com/watch?v=6cwwxvkzasY. It would seem that it has caught on for the most part in the city. I myself try to get out early before the snow is walked on and clear the houses around me, either because they are older, sicker, or have no kids. It has also been put out through LakewoodAlive in their efforts.

BUT, another person, a hero to many, has taken it much further, Rob Spargo, aka "Snowblowing Man" hits the streets errr sidewalks.

I like to clear my walks early, so I didn't notice it at first, but as I slept in I heard a snowblower going by. I just lay in bed and smiled, figuring it was a neighbor, helping me as I have helped them. When I walked out later I noticed tire tracks I had never seen before, "Hmmmmmm I thought, must be a new snow blower." I generally feel one of the nice things you can do for a neighbor is to shovel or snow blow their sidewalks. First it is great for walkers, joggers and dog walkers, but to be able to stay in your robe, enjoy coffee, and not have to get into it, is great. Also you find elderly who simply cannot, sick, people not home and on and on. One of the secrets is to get the snow cleared before the afternoon sun, which will both help melt it and dry it. If not, people walk on it and it turns into uneven ice with slippery spots.

A couple days later I heard the "snow blowing man" again and hurried to get dressed and out to see who it was. I was not in time, probably Freudian, but at the same time I was interested. As I looked down the street I noticed, he wasn't a neighbor. So I started tracing the wheel tracks back, one house, two houses, four house one block, two blocks three blocks four! I still couldn't tell where they started, and now it was a mystery I wanted to solve. I asked around, and everyone was grateful matter of fact positively gleeful, over the job he had done. But how, with what, the snow blower was damn near big enough to do the entire sidewalk in one pass. Far more than one shovel wide.

This past week, winter came back and it snowed again. I put on my boots, gloves, hat and coat and went outside and grabbed my shovel. Suddenly there was the now familiar sound of a snow blower. I ran inside to grab my phone, so I could ask him some questions, find out who he was and thank him, and before I got back out he was gone! Down Franklin, north on Riverside, as I went walking after him, there was no break in his stride, and he had a great pace going. "Hey Snowblower man!!! Hey snowblower dude!" I yelled as he continued clearing walks.

Finally, at West Clifton and Crest Lane he slowed for a second, and I screamed, "STOP!!! Snow Blower guy!" And he paused and looked behind him, where I stood waving frantically. As I walked up, he idled back his snow blower, and leaned over to hear me. "Hey, what are you doing?" I said. "Clearing the walks," he answered with a smile. "Why?" "Well it is good exercise, gets me out of the house…" and he proceeded to explain how he had a small snow blower that broke, and while looking for a new one he spoke to a friend who told him, "Figure out what you can spend, go look at them, and then spend 10% more, and this is what I ended up with. I thought my wife would kill me, but boy is it a nice snow blower!" And it is multiple speeds, multiple blade speeds, powers itself, lights for working in the dark, it is a damn fine snowblower, but nowhere as nice as the man running it. Depending on snowfall and time, Rob regularly clears Spring Garden, Roycroft, Rockway, Wayne, and the east side of West Clifton and the north side of Franklin Blvd.

Rob Spargo of Spring Garden, is a great guy with a nice yard, and interest in motorcycles and who now gets his exercise helping hundreds of neighbors stay warm, stay safe, and helps to bring the community plows together visually and in other ways. Many people walk their dogs, and jog safely because of Rob. I stopped one jogger who wanted to remain anonymous who said, "I head this way as they are the safest sidewalks to jog on." I spoke with neighbors who were shocked and pleased to finally find out who was behind the mystery. The LO is giving a $50 gift certificate for dinner from Woodstock to Rob, and his wife, and we hear other neighbors are looking at various ways to thank this hero of the neighborhood.

I would ask all to take time and thank him, and never be afraid to clear your own walks, and those around you, if only one shovel wide. But I will always remember the big smile, the kind nature, and the enthusiasm of our "Snow Blowing Man," Rob Spargo.

If you have a hero in your neighborhood, send us a note, or a story about them. Let's shine the light on the heroes of Lakewood together, and let's all work together to be a part of and celebrate community spirit.




Jim O'Bryan
Publisher, Lakewood Observer, Inc.
Read More on
Volume 14, Issue 4, Posted 12:12 PM, 02.20.2018