LNLC Young Adult Coffee Night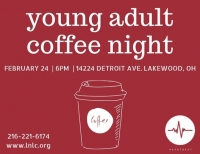 On February 24, 2018 Lakewood New Life Church (LNLC) will be hosting a coffee night event to officially launch their new young adult ministry called HEARTBEAT. It is going to be a fun night of food, games, live music, and of course lots of coffee. This event will take place from the hours of 6 – 9 p.m. at 14224 Detroit Avenue in Lakewood.
HEARTBEAT strives to build a family of Young Adults that are connected, authentic, influential, and fully devoted to God. They want to see young people transformed and renewed by the love of God, so they can influence the world around them and be leaders in their homes, jobs, and communities. They believe the world can be changed one HEARTBEAT at a time.
If you would like to attend their weekly gatherings, they meet every Wednesday at 7pm at 14224 Detroit Ave. in Lakewood. You can also follow them on Instagram at HEARTBEATLNLC.
Read More on Features
Volume 14, Issue 4, Posted 12:12 PM, 02.20.2018