LakewoodAlive Kicks Off 2018 "Knowing Your Home" Series With Two March Workshops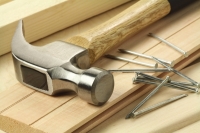 "Creating A Sound Investment" on March 8; "All About Fireplaces" on March 15
Ready to think spring and tackle home improvement projects? We're here to help. LakewoodAlive will commence the fifth season of its popular "Knowing Your Home" home maintenance educational series by hosting a pair of useful workshops during March.
"Knowing Your Home: Creating A Sound Investment" takes place on Thursday, March 8, from 7 to 9 p.m. at The Bottlehouse Brewery Lakewood (13368 Madison Avenue in Lakewood) and "Knowing Your Home: All About Fireplaces" takes place on Thursday, March 15, from 7 to 9 p.m. at The Hearth Shop (27303 Center Ridge Road in Westlake). As always, both workshops are free and open to the public.
The kickoff workshop for 2018 will feature a panel discussion focused on the process of undertaking larger home improvement projects. "Creating A Sound Investment" aims to equip homeowners with knowledge and confidence to succeed with taking on a major project. Panelists will share wisdom and insights to make the construction process more streamlined and effective, saving you time and money.
Moderated by Ian Andrews, Executive Director of LakewoodAlive, the panel of experts for "Creating A Sound Investment" consists of:
Dana Paul, Prairie Stone
Vince Valentino, Cleveland Lumber Company
Chuck McGettrick, Architects C.A. McGettrick, Inc.
Bill Gaydos, William J. Gaydos & Associates, LLC
New to the "Knowing Your Home" lineup, "All About Fireplaces" seeks to address everything you need to know about your fireplace. For many homeowners with older homes, the fireplace can represent both a source of comfort and an enigma.
Led by our friends at The Hearth Shop, this presentation will cover a wide range of topics including:
How to ensure your fireplace is working safely
How a fireplace system works
Proper fireplace maintenance
Upgrading or converting your fireplace
Options for installing a new fireplace
To reserve your free spot for either or both workshops, visit LakewoodAlive.org/Events or call 216-521-0655.
Now in its fifth year, LakewoodAlive's "Knowing Your Home" series draws hundreds of attendees annually. Visit LakewoodAlive.org/KnowingYourHome to learn more. Our workshop series is generously supported by: Citizens Bank, City of Lakewood, Cleveland Lumber Company, First Federal Lakewood, Remax Beyond 2000 and Third Federal Savings & Loan.
In lieu of charging for these events, we are asking participants to consider either making a donation to LakewoodAlive or bringing canned foods or other non-perishable items for donation to the Lakewood Community Services Center. We appreciate your support.
Matt Bixenstine
I am the Marketing & Development Manager for LakewoodAlive. I enjoy all things Lakewood, especially walking my basset hound through Madison Park.
Read More on Non-Profit
Volume 14, Issue 4, Posted 12:12 PM, 02.20.2018