Judge Patrick Carroll Criticizes Dog Policy As Costly, Divisive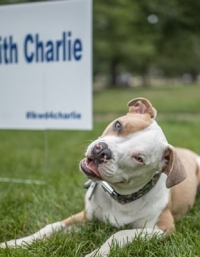 Lakewood Municipal Court Judge Patrick Carroll recently dismissed a lawsuit filed on behalf of a local dog, "Charlie," but sternly criticized the City of Lakewood's role in the proceedings.

The lawsuit objected to a city order calling for Charlie's removal from Lakewood, under local breed-specific legislation that bans pit-bull type dogs. Judge Carroll ruled that his court was not the right venue to decide the issues at hand, which are currently before the County Court of Common Pleas as well.

In the conclusion to his ruling, however, Carroll took the City of Lakewood to task for its handling of the controversy.

"In reviewing the number of court decisions involved in this case, I am awed by the staggering amount of public funds spent on attorney's fees to dispute conflicts between a state statute and a municipal ordinance that covers the same area and with the same goal of public safety," he wrote. (Ohio removed breed-specific language from state animal control law in 2015.)

Carroll suggested that the city's resources could be better spent on other problems. Additionally, he criticized "long term costs to the community," as a result of "continuing to maintain divisive policies, regardless of the validity of an ordinance, which pit neighbor against neighbor and fosters greater division in this community."

Lakewood's breed-specific dog restrictions have generated numerous protests since their introduction in 2008.

Citizens have repeatedly objected to the policy, which bans all pit-bull type dogs as inherently dangerous. In 2017, opponents of breed-specific legislation intensified their campaign in response to the threatened banishment of Charlie, a dog owned by Lakewood resident Jennifer Scott. After previously approving Charlie to live in Lakewood, when Charlie got loose from the Scott home last year, Lakewood animal control picked up the dog and reversed the earlier judgment.

Scott brought actions against the city in both Lakewood Municipal Court and the county Court of Common Pleas. Scott's lawsuits, the second of which remains before the Court of Common Pleas, are the latest in a series of legal fights over Lakewood's ban.

Recently some of Lakewood's elected officials have gestured toward amending the ordinance. At the end of December, Mayor Mike Summers and three members of City Council proposed an update that would permit pit-bull type dogs, but retain some breed-specific restrictions. A few days later Summers added in an e-mail to council that "The breed ban effectively ends today because I do not see the merits of enforcing a feature we are likely to eliminate in the near future."

City Council has tentatively scheduled a discussion of Lakewood's dog ordinances for its next Committee of the Whole meeting, at 7 p.m. on Monday, February 26.
Matt Kuhns
Matt Kuhns is a freelance graphic designer, and occasional author.
Read More on City
Volume 14, Issue 4, Posted 12:12 PM, 02.20.2018