Grant Elementary Math Teams Bring Home Honors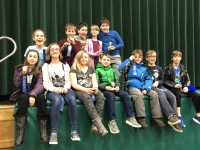 A dozen Grant Elementary fifth-graders won honors for their performance at the Greater Cleveland Council of Teachers of Mathematics competition on February 10. The students are part of the school's Math Club, which meets biweekly to practice math problems just for fun.
Teachers Sean McGuan and Christine Masgras are advisers of the club, which is open to any fifth-grade math student. Teacher Jessie Holland also helped in preparing for the competition. The club entered three teams in the competition.
The event is a five-part competition, each part timed. The first two rounds are solving challenging multi step word problems from a variety of skill sets. The third round is following specific directions to construct a geometric design -precisely. The fourth round is mental math..no writing anything! The final round is called pile of 10 and is a very short quick round of quick word problems let challenging than the first two rounds.
"We are so proud of all of them and are already looking forward to participating again next year," Masgras said.
The following Math Club students earned recognition:
Trophy team:
Cal Holland, Anna Daso, Daniel O'Brien and Colton Moran
Champions (blue ribbon):Anna Maurer, Shannon Katzenberger, Georgia Young, Iris Wright, Wyatt Crouch, Alessio Matera, Ian Molinski and Matthew Calleri
Read More on
Volume 14, Issue 4, Posted 12:12 PM, 02.20.2018