Bennewitz Quartet Will Perform In Westshore Area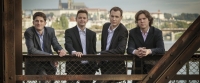 Rocky River Chamber Music Society presents its first concert of 2018 on February 12 at 7:30 p.m. in the magnificent acoustics of West Shore Unitarian Universalist Church's beautifully refurbished sanctuary at 20401 Hilliard Boulevard, Rocky River. Musical guest of honor will be the Bennewitz Quartet from Prague, Czech Republic. Formed in 1998 and named after renowned Czech violinist, Antonin Bennewitz, the Quartet's current members are Jakub Fišer (violin); Štěpán Ježek (violin); Jiří Pinkas (viola); and Štěpán Doležal (cello).
The Bennewitz Quartet quickly established itself on the world stage by winning two prominent chamber competitions in Korea and Italy, by appearing at numerous international music festivals, and by performing in well-known concert halls in Europe, Asia, and the United States. In the fall of 2017, the Quartet became "ensemble-in-residence" at the Czech Philharmonic in Prague. After its Rocky River concert that will feature Czech composers, the Quartet will travel to the Elbphilharmonie, the dramatic new concert hall in Hamburg, Germany. The Quartet's other 2018 concert venues include Rome, Italy; Linz, Austria; Bilbao, Spain; Wigmore Hall in London; and a tour in South Korea.
In addition to touring and its work in the Czech Republic, the Bennewitz Quartet has an impressive discography that covers works by Bartók, Janáček, Smetana, Dvorák, Mozart, Schumann, and Schubert. Critics of the Quartet's recordings hailed their "fiery temperament" and concluded their playing was "simply phenomenal!" German critics wrote, "The Bennewitz will soon have established itself at the very top of the international quartet world." Other critics noted the Quartet's "clarity of structure" and "beautiful tone palette and purity of intonation."
Rocky River Chamber Music Society is firmly committed to presenting its concerts to Northeast Ohio audiences at no admission charge. All are welcome. For further information visit the RRCMS website at www.rrcms.org, or follow RRCMS on Facebook and Twitter.
Program:
Leoš Janáček, String Quartet No. 2, "Intimate Letters"
Bedrich Smetana, String Quartet No.1 in E minor, "From My Life"
INTERMISSION
Antovin Dvorák, String Quartet No. 13 in G major, Op. 106
Leoš Janáček, String Quartet No. 2, "Intimate Letters"
Carol Jacobs
Carol Jacobs is a retired archivist, curator, and librarian who currently serves on the board of the Rocky River Chamber Music Society.
Read More on Arts
Volume 14, Issue 2, Posted 12:12 PM, 02.20.2018