Pair Of Swimmers Snag Conference Titles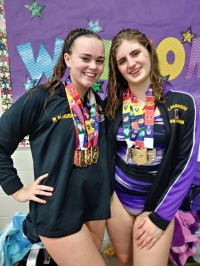 Swimmers Maggie McHugh and Sistina Simcox captured conference titles at the Southwest Conference championship meet on Jan. 27 at Lakewood High School. Maggie, a senior, won both the 50-yard freestyle and 100-yard butterfly and Sistina, a freshman, captured the 100-yard freestyle title.
The pair were also on the awards podium for two relays, including Maggie with a second-place finish in the 200-yard freestyle relay (along with freshmen Ethel Woodford and sophomore Alissa Leon) and Sistina for her second-place finish in the 200-yard freestyle.
Other girls reaching the awards podium included the 400-yard freestyle relay team of Maggie McHugh, Sistina Simox, Ethel Woodford and sophomore Sophia Miranda. Ethel also placed sixth in the 100-yard freestyle.
On the boys' side, junior diver Joe Toole was the highest placer with a third place in only his second year of competing in the sport. For the swimmers, senior Colman McGuan placed highest with a third-place finish in the 100-yard breaststroke. Colman also earned fifth in the 200-yard individual medley. Senior Luke Healy placed fourth in the 200-yard freestyle and fifth in the 500-yard freestyle. Two of the boys' relay teams were among the top finishers as well: Luke Healy, Colman McGuan, sophomore Parker Polen and junior Wilson Reynolds made both the fourth-place 200-yard freestyle team and the sixth-place 400-yard freestyle team.
Next up for the Rangers is Sectionals on Feb. 10. Congratulations to all the hard-working athletes and coaches!
Read More on
Volume 14, Issue 3, Posted 4:45 PM, 02.06.2018