Magic By Blake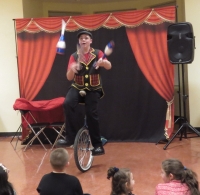 An enthusiastic group of children and their parents enjoyed an entertaining versatile program at the Lakewood Public Library on a recent Saturday evening. "Magic by Blake" showcased a young illusionist who started the evening with several mystifying tricks. A juggling demonstration followed that had balls, rings, and pins flying through the air. Jaws dropped as Blake pulled a unicycle from behind the curtain and juggled as he rode the unicycle back and forth in front of captivated children. Balloon creations ranging from a flower to Superheroes were quickly fashioned by the able fingers of the magician to reward youngsters who had assisted with puzzling trickery.
Did Blake finish his show by pulling a white rabbit out of a hat? No, Blake charmed the audience by making a black rabbit appear in an empty cage. After much applause, the audience was invited to pet the beautiful Rex rabbit which was covered with short, dense, plush, velvet-like fur. It was a fitting ending to a spellbinding performance.
Mark your calendar for Saturday, February 17, 2018 at 7:00 p.m. when the "Amazing Jeffrey" will be presenting his lively magic and juggling at the Lakewood Public Library in the Main Library Multipurpose Room.
Read More on Library
Volume 14, Issue 3, Posted 4:45 PM, 02.06.2018