Internationally Touring Band Members To Bring Americana To The Library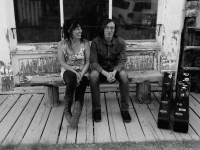 Prepare yourself for a rousing performance by Jen Maurer and Anthony Papaleo, who play an awe-inspiring variety of music, including blues and Americana. Join us at the Main Auditorium of the Lakewood Public Library at 2:00 p.m. on Sunday, February 18, 2018. This concert is part of the Sunday With The Friends program series.
Anthony Papaleo (vocals, fiddle, and guitar) is from Chardon, Ohio. Originally inspired to love music by his father, he has played in groups such as Duchess, The Sidemen, Rebekah Jean, One Dollar Hat, Fishoil, and Mo' Mojo. Anthony's repertoire includes zydeco, blues, Old Time Fiddle, rockabilly, country, and Americana.
Jen Maurer (vocals, accordion, and guitar) has also been in the music scene for years in groups such as Jen Maurer Music, The Rhondas, Hoseff, and Mo' Mojo. Like Papaleo, she seeks variety by playing a wide range of music including zydeco, bluegrass, Americana, blues, ragtime, and jugband.
Both Jen and Anthony are involved in the group Mo' Mojo, which describes itself on its website as a "hard driving, high energy" band that infuses zydeco music with Americana, Cajun, reggae, rock and roll, funk, R&B, and African and Latin rhythms. The band plays at zydeco dances and clubs and has toured the country to take part in various music festivals. The group has also traveled internationally as a musical ambassador for the U.S. Department of State's American Music Abroad program. In 2014 the band toured in the Dominican Republic and Haiti, and in 2015 its members played in Belize, Panama, Mexico, Barbados, Colombia, and Tajikistan.
Jen and Anthony have played together for years and are sure to use their vocals, instruments, and vast experience to bring a fun, rollicking time to their performance at the library.
Read More on Library
Volume 14, Issue 3, Posted 4:45 PM, 02.06.2018