Great Lakes Theater Performs Huck Finn At The Library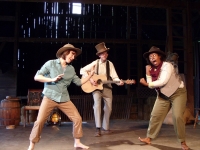 On Thursday, February 22, 2018 at 6:00 p.m. in the Main Library Auditorium Great Lakes Theater's Classics on Tour will present the play "Huck Finn." Great Lakes Theater's play has been adapted by Eric Schmiedl from the novel, "The Adventures of Huckleberry Finn," by Mark Twain. It was first published in the United Kingdom and then in the United States. It was — and still is — one of the greatest American novels.
Huck runs away from home with Jim the slave, who escaped for fear of being sold. They follow the Mississippi River to Cairo, Illinois. The pair encounter many difficulties, but their strong bond helps them overcome all obstacles.
Throughout the story, Huck struggles with the concept of slavery. At the end, he realizes why it shouldn't exist; there is no need for one human being to control another human being's life. It's easy to understand why such a statement was controversial when the book was first published.
Huck and Jim have lots of adventures together. They run into burglars who are trying to deceive two innocent girls by stealing their inheritance. Luckily, their identities are revealed by Huck.
Huck also saves Jim from being hanged, after Jim is wrongly accused of murdering Huck. The story has a happy ending. Jim gains his freedom and Huck goes back to live with the two sisters.
The story is funny, exciting, and covers racism in a clever way.
Great Lakes Theater home base is at Hanna Theater Playhouse Square. Come and enjoy them as they bring this play to life here at Lakewood Public Library.
Admission is free and open to all. The play will begin at 6:00 p.m. in the Main Library Auditorium, and there are no assigned seats, so arrive early to get the best seat.
Read More on Library
Volume 14, Issue 3, Posted 4:45 PM, 02.06.2018