The Bookshop In Lakewood Is Moving! Celebrate With 20% OFF Everything!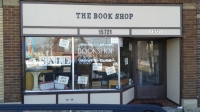 Well, it has been a fantastic 3½ years in this, our first location! I REALLY was not sure we would weather the storm of our first year. We opened with a $5,000 loan and starter stock pulled from my personal book collection, and have managed to keep rolling our sales back into making slow improvements for the shop. The surrounding neighborhood has been wonderful to us, and I hope they find us again as we shift seven blocks East down Madison. Our last day open in this location will be Saturday 1/27, and we are running a SALE until we close. EVERYTHING in the shop is 20% OFF, and while there are no guarantees, I will consider offers made on collectable titles. The shop weighs about 5 TONS, and I would really like to see some of these shelves empty out before I have to box and transfer them.
We will be re-opening on the block between Elmwood Bakery and Malley's, on the North side of the street, hopefully in early March. See you there, and happy reading!
Read More on Business News
Volume 14, Issue 2, Posted 9:51 PM, 01.23.2018