Proposed Development Contract Announced for Board Property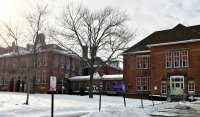 The Board of Education at its January 22, 2018 meeting introduced a proposed contract with Liberty Development Co. to purchase the Board of Education properties located at 1456 and 1470 Warren Road. The Board is scheduled to vote on approval of the contract at its February 5 meeting.
The agreement between the Board and Liberty meets the parameters for sale laid out by the Board at the outset of the sale process, including intention to preserve the historical façade of the East Rockport Central School building at 1456 Warren, where the Recreation Department was housed until recently.
Liberty will pay $500,000 for the properties and plans to invest approximately $8 million in renovations. State law dictates that the money be placed in a capital improvement fund. Work will begin first on the 1456 property, which will be renovated into modern office space. The Board must vacate that building by June 2018. Board employees will be able to remain in the 1470 Warren building until August 2019 under a lease agreement that includes six free months. After the 1456 Warren renovation is complete, the Board will have the option to lease the space for its Central Office operations.
Besides preservation of the East Rockport building exterior, other parameters set out by the Board included:
Ensure the safety and security of Grant Elementary School
Purchase price
Guarantee occupancy for current Board offices for minimum 12-18 months
Return of tax paying property to the tax duplicate
In regards to the parameters, a recent property adjustment between the Board and Grant properties ensures a buffer will be created on the stretch of Victoria Avenue directly across from the school to minimize any additional traffic. While Liberty has not determined its plan for the 1470 property, it is likely that portion of the complex will become tax-paying space.
"The proposed contract allows us to remain in downtown Lakewood in renovated office space without going to voters for funding," said Superintendent Jeff Patterson. He also noted that the space for the Board's administrative operations will shrink from 30,000 square feet to 10,000 square feet, significantly cutting overall operating costs.
Board President Edward Favre commented that he was pleased that the process to select a developer was consistent with what the Board said it would do at the outset of the Facilities Master Plan. "This deal accomplishes our goal of putting some of our property back into the tax base," Favre said. Liberty CEO & co-founder Tom Kuluris, whose company is developing McKinley Place, is eager to start his next Lakewood project: "We are very proud and honored to be selected...and are very excited to bring this property to its next life."
Read More on Schools
Volume 14, Issue 3, Posted 10:38 AM, 01.23.2018