LHS Cellist Selected For National Orchestra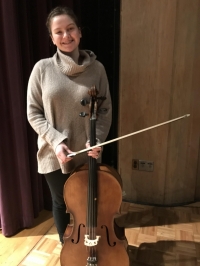 Lakewood High School sophomore cellist Grace Gill has been selected as a member of the Honor Orchestra of America, sponsored by the non-profit arts advocate Music For All. Grace will perform with the ensemble in March at Music for All's National Festival in Indianapolis.
Students in the Honor Orchestra of America get to rehearse and perform with renowned conductors and perform for an audience of outstanding school musicians and educators from across the United States. This year's guest conductor is Larry J. Livingston, Chair, Conducting Department, Thornton School of Music, University of Southern California.
Grace was a bit surprised when the announcement came as she had submitted the audition many months earlier. She is looking forward to meeting up with some musicians she met as part of the All-State Orchestra earlier this year and to learn some new "fun" music with a new conductor.
Grace's director, Dr. Beth Hankins, was not surprised by her selection.
"Grace joins the Lakewood Orchestra elite by earning a seat in a national honors orchestra," Dr. Hankins said. "She is not only talented, but dedicated to her music, so this honor is richly deserved. I am very proud of Grace as are her orchestra and high school colleagues."
Read More on Schools
Volume 14, Issue 2, Posted 9:51 PM, 01.23.2018