Deadline Looming: Lakewood Women's Club Seeking Nominations For Exceptional Women Living Or Working In Lakewood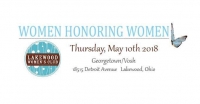 The Lakewood Women's Club will be accepting nominations for exceptional women in our community only until Friday, January 26th!
Do you know an emerging leader who has already inspired others around them by their actions and motivation? How about an established leader who has made great contributions in our community and paved the way for others to carry on their good works?
We need women like you to nominate other women who they believe are one of the two types of women above. All the women nominated will be honored and presented at our 2nd annual Spring fundraiser, "Women Honoring Women," on Thursday, May 10, 2018 at Georgetown Vosh in Lakewood, Ohio. The event will recognize outstanding women whose charitable and civic service has made an exceptional impact in Lakewood, Ohio.
The Women Honoring Women awards will recognize women for a variety of accomplishments from career to volunteer and philanthropic endeavors.
In addition, a college scholarship award will be presented to an outstanding young woman who has made a significant impact in the community.
Additional proceeds raised will go to this years non-profit recipient, GiGis Playhouse on Detroit Rd, in Lakewood.
Award categories include:
Emerging Leader
This award honors a woman who is early in her efforts but shows ambition and promise of reaching unconventional goals. She has demonstrated steady growth and leadership skills. She is willing to take risks, inspires and motivates others. She has overcome and excelled under challenges and demonstrated perseverance.
Distinguished Leader
This award honors a seasoned woman who has demonstrated outstanding contributions to her community over a period of time. She is a role model, community leader, mentor, or has broken new ground. She is an agent for change who, through her accomplishments, will continue progress for those around her.
ALL NOMINATIONS ARE DUE BY FRIDAY, JANUARY 26, 2018
To download a nomination form please visit: http://bit.ly/WomenHonoringWomen2018
For more information, please also visit https://lakewoodwomensclub.weebly.com. Under the Events tab.

Lissette Rivera
Kristy Feyedele, Social Media Publicity & Public Relations Chair for The Lakewood Women's Club & their Spring event, Women Honoring Wimen.
Owner and Photographer at SunnyDay Photography. Mom to Abby (12) and Lyla (5) at Menlo Park Academy.
Read More on Non-Profit
Volume 14, Issue 2, Posted 9:51 PM, 01.23.2018